An Easy Intro to a Natural Sleep Aid
If you've been looking for an effective alternative to OTC sleep aids, our 3-Day Sleep Kit is a simple, wallet-friendly option for anyone looking to be introduced to the natural benefits of CBN.
This Kit comes with 3 glass vials that are precisely pre-measured with our signature Dreamsicle Tincture Blend and is a great way to sample, share with friends, or pack for easy travel.
This product is THC FREE.
Legal to take in the United States.
Flavor: Dreamsicle (Orange + Vanilla Botanicals)
3-Day Supply, based on Suggested Use per night.
Ingredients
Proprietary Blend: Organic MCT Oil, CBN, Linalool (Lavender), Beta-Caryophyllene, Natural Vanilla, and Orange Flavoring.
30 mg CBN total per pack / 10 mg CBN per vial (1 ml
Suggested Use
Adults should take 1 vial orally, 30 minutes before bed each night. Hold the oil under your tongue for 20 seconds before swallowing. Individual results may vary.
Storage:
Store in a dry cool area, away from the light.
Medical Warning:
This product is not intended to diagnose, treat, prevent, or cure any disease. Individual results may vary. If you experience any negative effects, discontinue use immediately and tell your attending physician. Discontinue if you become pregnant. Keep out of the reach of children.
Not Sure If CBN Is Right for You? Sleep on It.
Say hello to the perfect travel pack of our best-selling CBN (Cannabinol) tincture blend. These individually measured vials, each containing 10 mg CBN, are perfect for when you are on the go or just looking to get acquainted with a natural sleep aid.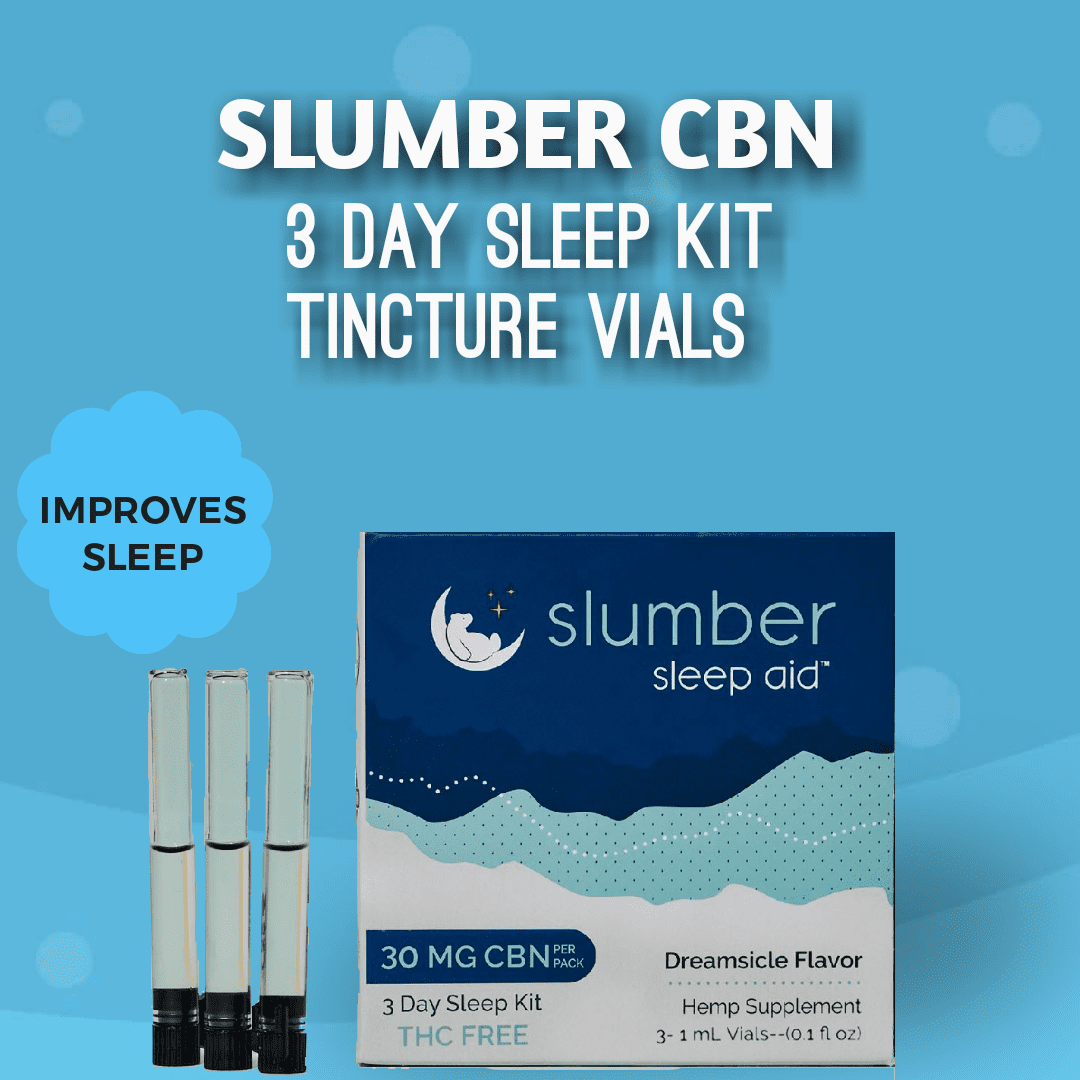 What Is CBN?
CBN (Cannabinol) is a non-intoxicating minor cannabinoid that is naturally found in the hemp plant. Time, oxygenation, and the decomposition of THC naturally convert to a new compound, resulting in CBN. It is a unique minor cannabinoid thought to have therapeutic benefits for rest.
Are There Side Effects?
CBN may cause drowsiness. Hemp-derived CBN products are generally well-tolerated and considered safe for adults. As with any other natural sleep aid or hemp supplement, consult your physician as there is a chance that it could cause adverse reactions for some people.
Can I Increase Or Decrease My Doses?
It may take some time to find an optimal dose or for your body to start seeing the desired effects. It is our recommendation to start off with 1 vial (10 mg CBN) and increase or decrease the dosage in increments of 5-10 mg CBN if you feel that it may produce a better-desired result.
Related Products: