MARLEY NATURAL BLACK WALNUT RIGGLER
Introducing the MARLEY NATURAL™ Black Walnut Riggler, a portable dual-use piece for dry herb and concentrates. Crafted from sustainably grown black walnut and handblown borosilicate glass, the compact rig allows for premium filtration, producing a smooth and impactful pull.
It's A Beauty
The aesthetically pleasing, unintimidating and easy-to-clean removable parts make the Marley Natural Black Walnut Riggler a superior multifunctional piece.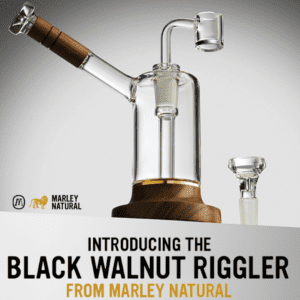 FEATURES
Dual-Use Design
Handblown Borosilicate Glass
Sustainably Grown Black Walnut
Compact Design
Removable Parts
14mm Frosted Joints
Gold Plated Accents
Related Products: