AWS 1000 Digital Pocket Scale
This Digital Pocket Scale delivers precision weighing in a portable and durable design. This high-tech scale offers a range from 0.1 of a gram to 1000 grams.
Engineered with a backlit LCD display, this convenient scale gives you control over switching modes, grams, ounces, troy ounces, pennyweights, and tarring. This high-tech scale features a protective cover and a smooth, stainless steel weighing surface that's easy to clean.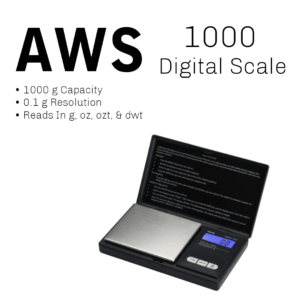 AWS 1000 DIGITAL POCKET SCALE FEATURES
1000 g Capacity
0.1 g Resolution
Reads In g, oz, ozt, & dwt
Pocketable Design
Backlit LCD
Protective Lid
Precision On-The-Go Weighing
Stainless Steel Weighing Surface