AWS 100 Pocket Scale
The AWS 100 Digital Pocket Scale is a durable and compact scale that's perfect for on-the-go use. This checkbook-sized scale offers a range from 0.01 of a gram to 100 grams. Featuring a backlit LCD display, this scale gives you control over switching modes, grams, ounces, troy ounces, pennyweights, and tarring.
This high-tech scale features an intuitive protective cover and a smooth, stainless steel weighing surface that's easy to clean.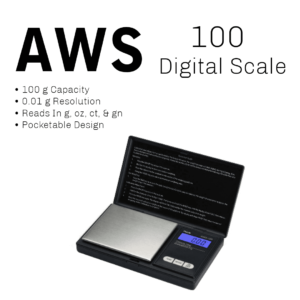 FEATURES
100 g Capacity
0.01 g Resolution
Reads In g, oz, ct, & gn
Pocketable Design
Backlit LCD
Protective Lid
Precision On-The-Go Weighing
3–5 Second Stabilization Time
Stainless Steel Weighing Platform
Offered With Or Without 100 g Calibration Weight
Related Products: