Detox Formula Full Body Cleanse
Within the Detox Formula Herbal Clean QCarbo 20, the transformative power of a full detox formula awaits. Crafted with precision and renowned for its efficacy, this potent herbal detox elixir has redefined the art of toxin elimination, ushering you towards your optimal state of well-being. This 20 ounce formula includes rapid release capsules to speed up the flushing process and is taken along side with the liquid formula.
Product Details:
20 Ounce Formula
Rapid Release Capsules Included
Fast Acting Formula
Effects Last Up To 6 Hours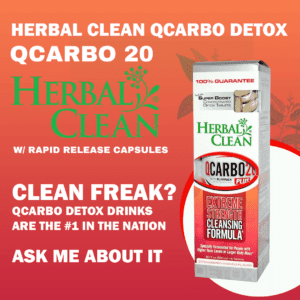 Unparalleled Ingredients, Remarkable Outcomes
At the heart of the QCarbo 20 experience lies an exclusive blend of herbs and botanicals, meticulously harnessed to facilitate the expulsion of unwanted toxins. A symphony of ingredients including Dandelion Root, Burdock Root, and Turmeric Root Extract work in harmony, amplifying your body's natural detoxification processes.
Effortless Detoxification at Your Fingertips
QCarbo 20 transcends traditional detox methods, offering an unmatched experience that simplifies and accelerates your journey to purity. The process is as effortless as it is potent: consume the entire bottle, followed by a glass of water, and then let the formula take the reins. You can sit back and relax as it systematically purges toxins from your system.
Pros and Cons: A Balanced Perspective
Pros:
Efficiency: QCarbo 20 triggers detoxification within hours.
Comprehensive Formula: Contains a powerful blend of detoxifying herbs.
Ease of Use: The two-step process is simple and hassle-free.
Cons:
Not a Guarantee for Drug Tests: While effective for detoxification, it may not guarantee passing drug tests.
Short-Term Effects: The detox window is limited to a few hours.
Unleash Your Purity Potential
Elevate yourself towards a refreshed, toxin-free existence with Detox Formula Herbal Clean QCarbo 20. Whether you're preparing for a special occasion, aspiring to embrace a healthier lifestyle, or simply prioritizing your well-being, QCarbo 20 stands as your unwavering ally.
Don't let toxins shackle your potential. Claim your Detox Formula Herbal Clean QCarbo 20 now and embark on a radiant, toxin-free future. Your body deserves nothing less.
Related Products:

How rapidly does QCarbo 20 initiate detoxification?
The detoxification process is typically activated within 1 to 2 hours post-consumption, lasting up to 5 hours. To optimize results, avoid exposure to toxins during this period.
Can QCarbo 20 be relied upon for passing drug tests?
While QCarbo 20 is designed for detoxification, it should not be solely relied upon for drug tests. Its primary purpose is general detox support.
Is QCarbo 20 safe to use?
Yes, when used according to the instructions, QCarbo 20 is a safe and reputable product. However, individuals with underlying health concerns, pregnant or nursing should consult with a healthcare professional.
How can I enhance the detox process further?
Complement the effects of QCarbo 20 by maintaining proper hydration, consuming a balanced diet, and minimizing exposure to toxins. This holistic approach promotes overall well-being.