Focus And Energy Gummies
Experience Unmatched Focus and Lasting Energy with Our Premium CBD Gummies
Are you tired of those midday slumps and the struggle to stay attentive during crucial moments? Say goodbye to distractions and hello to laser-focused energy with our exceptional CBD Gummies for Focus & Energy.
Crafted to empower you through your day, these organic gummies harness the soothing magic of CBD while enhancing your mental clarity. Plus, we've added phosphatidylserine, or "sharp PS," a naturally occurring compound in the body known to boost mental acuity.
With the infusion of these focus-enhancing elements and the zing of caffeine, our CBD Focus Gummies are your ideal daily companion!
Supplement Facts:
Serving Size: 2 Gummies
30 Servings Per Container
Total Carbs 7g
Total Sugars 3g (Includes 2g added sugar)
Broad Spectrum Hemp Extract 55mg (Aerial Parts)
Cannabinoids 50mg
Phosphatidylserine (As Sharp P.S*) 50mg
Caffeine 50mg
Other Ingredients: Organic Tapioca Syrup, Organic Cane Sugar, Purified Water, Seaweed Extract, Citric Acid, Pectin, Tri Sodium Citrate, Natural Flavors And Color.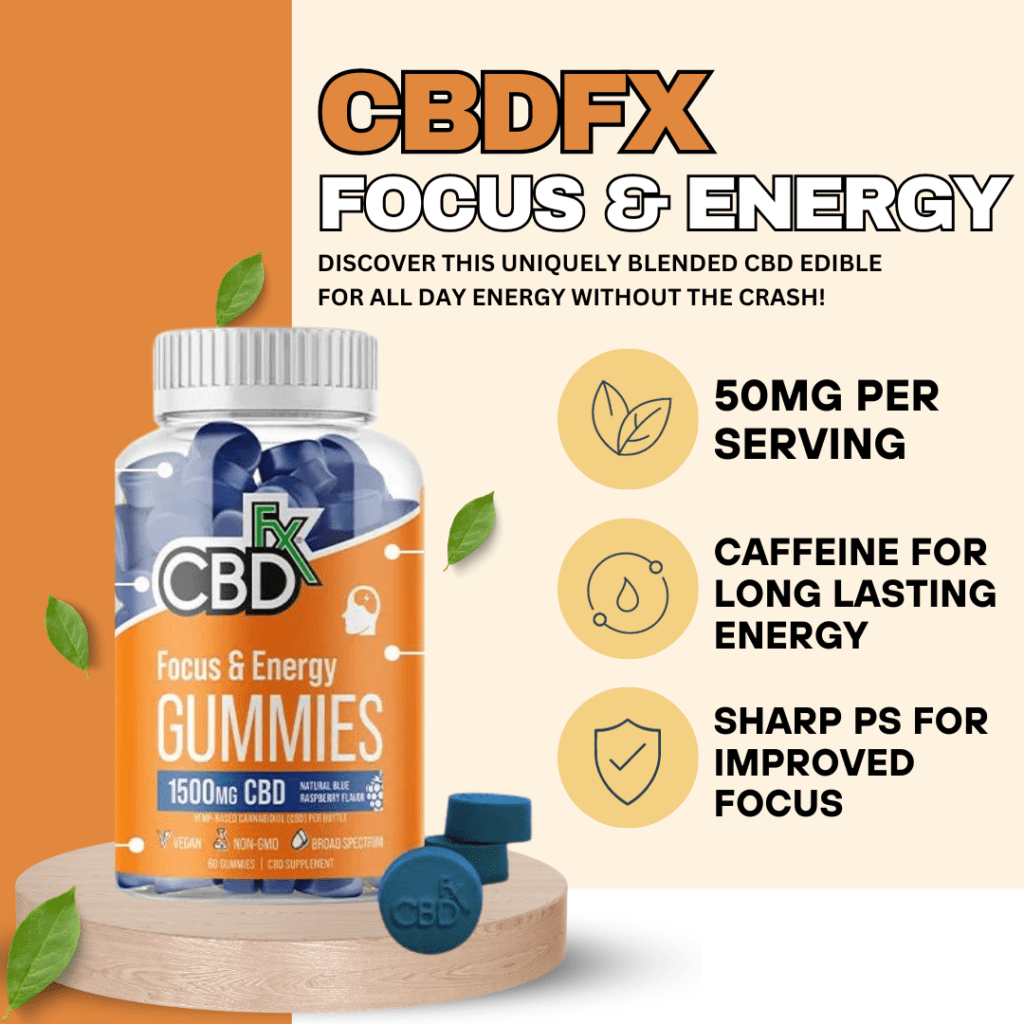 Pros:
1. Long-Lasting Energy: Our gummies provide sustained energy that keeps you going throughout the day.
2. Enhanced Mental Clarity: CBD and sharp PS combine to help you sharpen your focus and tackle tasks effectively.
3. Delicious Taste: These gummies don't just work great; they also taste amazing, making your daily supplement enjoyable.
4. Safe and Organic: We use only organic CBD to ensure you're not ingesting any harmful pesticides, heavy metals, or toxins.
5. Trusted Extraction: Our CBD is extracted using the safe and clean CO2 method, leaving behind no harmful chemical residues.
6. Transparent and Verified: Every product is accompanied by a Certificate of Analysis (COA) from an independent lab, providing assurance of purity and safety.
Cons:
1. Digestive Absorption Time: It may take between 30 minutes to two hours for the gummies to take full effect, based on individual factors.
2. Variable Duration: The duration of the gummies' effects can vary between six to eight hours depending on personal bioavailability factors.
Unlock Your Full Potential with CBD and Sharp PS Surprisingly, CBD, known for its calming effects, complements energy products remarkably well. It helps calm your mind, allowing you to harness your boosted energy more effectively.
Sharp PS, a natural component predominantly found in the brain, is also a game-changer for focus and mental sharpness. These two powerhouses, CBD and sharp PS, work in harmony within our delectable gummies, promising you the ultimate focus-enhancing combo.
How Do Our Gummies Work?
When you consume edible CBD products, such as our CBD gummies, the CBD, other cannabinoids, and sharp PS must journey through your digestive tract before entering your bloodstream.
This process may take a bit longer compared to other CBD products like tinctures or vapes. However, the good news is that the effects can last up to six to eight hours, depending on personal factors like your height, weight, and CBD tolerance.
Choosing the Best Hemp Products Navigating the saturated CBD market can be tricky. Numerous brands offer subpar or unsafe products. To ensure you're getting the best, keep these factors in mind:
Organic Products: Only opt for organic CBD products to avoid ingesting harmful chemicals or toxins.
Safe Extraction Methods: Choose brands that use safe methods like CO2 extraction, leaving no chemical residues behind.
Certificate of Analysis (COA): Always check for an accompanying COA, which provides an independent lab report on the product's composition and purity.
Don't compromise on your focus and energy. Embrace our CBD Focus Gummies, and seize every day with unmatched vitality and clarity!
Related Products:

What is broad spectrum CBD?
Full spectrum CBD is the initial extract derived from the hemp plant. This form of CBD contains all cannabinoids, terpenes, flavonoids, and healthy fatty acids. Because full spectrum CBD contains trace amounts of THC (tetrahydrocannabinol), many people prefer to purchase CBD products that contain broad spectrum CBD instead. Broad spectrum CBD is the exact same natural extract as full spectrum CBD, only the detectable amounts of THC have been filtered out.
How many gummies should I take?
The serving size for this CBD focus product is two gummies. Each two-gummy serving contains 50 mg of CBD, along with 50mg sharp PS and 50mg caffeine. If you're new to CBD products, you should consider starting with one gummy, in order to get a handle on your CBD tolerance.
Do these CBD gummies have any side effects?
CBD side effects are rare and generally stem from taking much more CBD than the recommended serving size. These CBD side effects include drowsiness, lack of appetite, dry mouth, and diarrhea. Sharp PS side effects also usually stem from taking much more than the recommended serving size. These effects include sleeplessness and an upset stomach. Both CBD and sharp PS can interact adversely with some medications, so make sure to consult your physician before using this product.
Do CBD Focus Gummies get you high?
Our CBD Gummies for Focus & Energy contain no detectable amounts of tetrahydrocannabinol and cannot get you high.
Do these gummies contain caffeine?
Yes, each serving of CBD Gummies for Focus & Energy contains 50mg of energizing caffeine.