Sleep GABA Gummies Natural Sleep Aid
Discover this all natural sleep aid supplement specially blended with well established ingredients known to help improve sleep. Whether it's stress or anxiety causing you sleepless nights you can finally find comfort in this easy to use GABA supplement
There's no doubt that many of us struggle with sleep these days but knowing about some of nature's wonders can help you discover relief when you know what to use.
Nutra Mind uses the best quality of ingredients to formulate this blend to deliver maximum relief to help you sleep.
One of the main ingredients is GABA Gamma-Aminobutyric Acid, Gamma-aminobutyric acid (GABA) is an amino acid that functions as the primary inhibitory neurotransmitter for the central nervous system (CNS). It functions to reduce neuronal excitability by inhibiting nerve transmission.
Why do people take Sleep GABA Gummies?
People take GABA as a supplement to try to:
Improve mood
Relieve anxiety
Improve sleep
Help with premenstrual syndrome (PMS)
Treat attention deficit hyperactivity disorder (ADHD)
they may also take GABA to try to:
Relieve pain or discomfort from injuries
Increase tolerance to exercise
Lower blood pressure
Burn fat
Increase the growth of lean muscle mass
ou can get GABA naturally from foods.  Some of the best food sources include:
Spinach
Sweet Potatoes
Broccoli
Kale
Fermented foods including tempeh and Kimchi
Nutrition Facts:
Serving Size 2 Gummies
Berry Flavor
60ct Bottle
Vitamin B6 2mg
Magnesium 200mcg
Sodium 5mg
L-Theanine 50mg
GABA 6mg
Proprietary Blend 4.75mg
Lemon Balm Leaf Extract
Blue Passionflower Extract
Valerian Root
5-Hydroxytryptophan Extract 1.5mg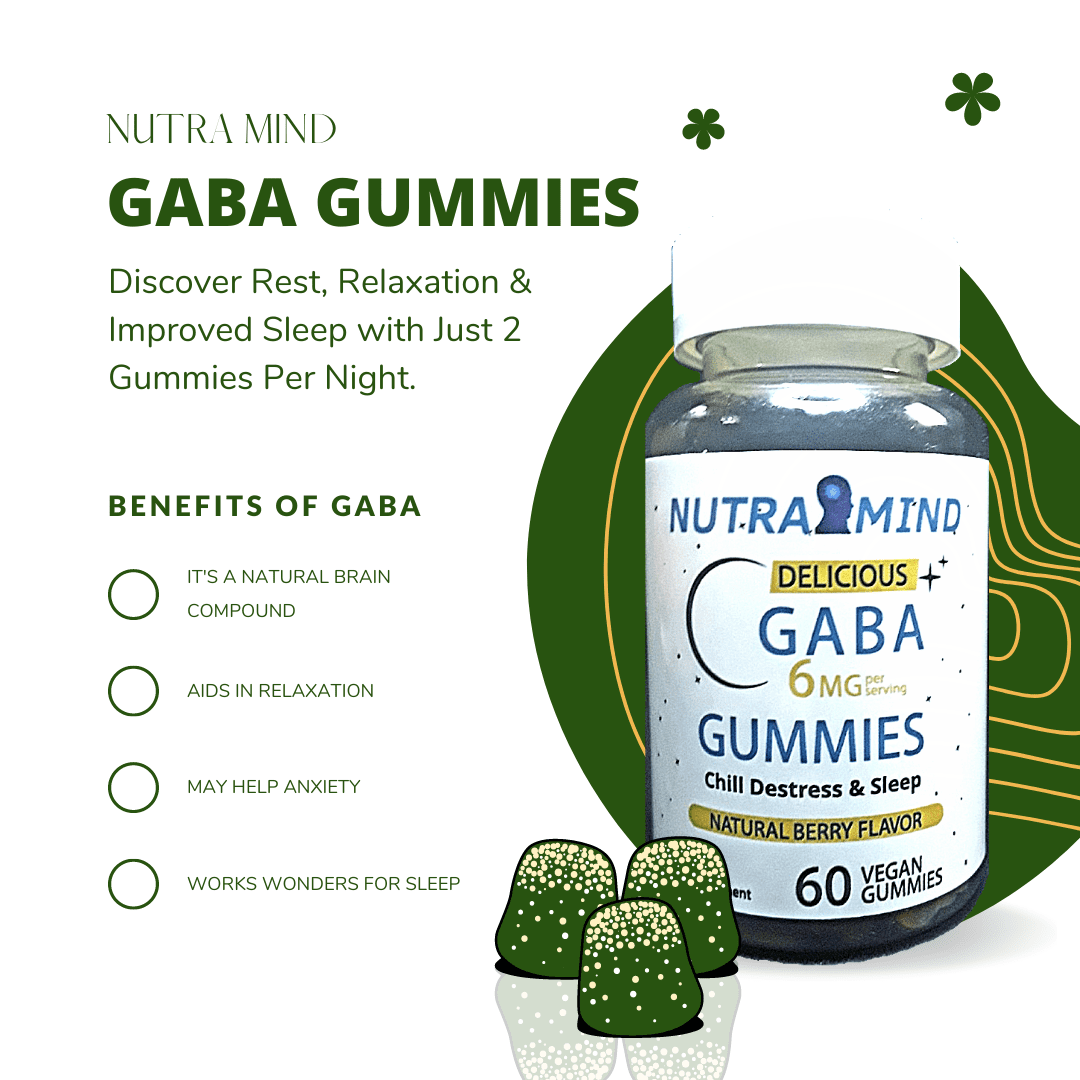 Related Products:

What Is GABA?
GABA, is the chief inhibitory neurotransmitter in the developmentally mature mammalian central nervous system. Your brain produces GABA naturally however it maybe less than adequate amounts to promote proper sleep or anxiety levels in some people. This is why some may take supplements to increase the production of the compound.
Is It Safe To Use Every Night?
Yes, when used within the recommended dosages you can safely use it every night to help you get to sleep and stay asleep.
Does It Only Help Sleep?
No, it's main function or principle role is reducing neuronal excitability throughout the nervous system. Basically helping to keep the mind and body calm, relaxed and stress free. Many people use it for different reasons.
Does It Work For Stress & Anxiety?
Yep, it does help reduce both and really depends on the strength of the supplement your taking.