Sweet Sleep CBD Oil Non-Habit Forming Sleep Aid
Tell your pillow to get ready.
WHAT IT IS:
A 4-pack of our 30ml bottles of Sweet Sleep Oil, with melatonin and two different cannabinoids. Enjoy a full month of better rest if you take 1ml each evening.
WHY IT'S SPECIAL
It's formulated by our in-house team of pharmacists to be the perfect addition to your bedtime routine
It has 2.5mg melatonin, which is part of your body's natural sleep cycle
It has CBD to help you manage ordinary stress (22.5mg/serving)
It has CBN – the perfect addition to our sleep formula (2.5mg/serving)
750mg total cannabinoids
25mg CBD+CBN/ml
30ml Bottle
Broad Spectrum
Pharmacist formulated
Independent lab tested
Proprietary formula
Vegan & Gluten Free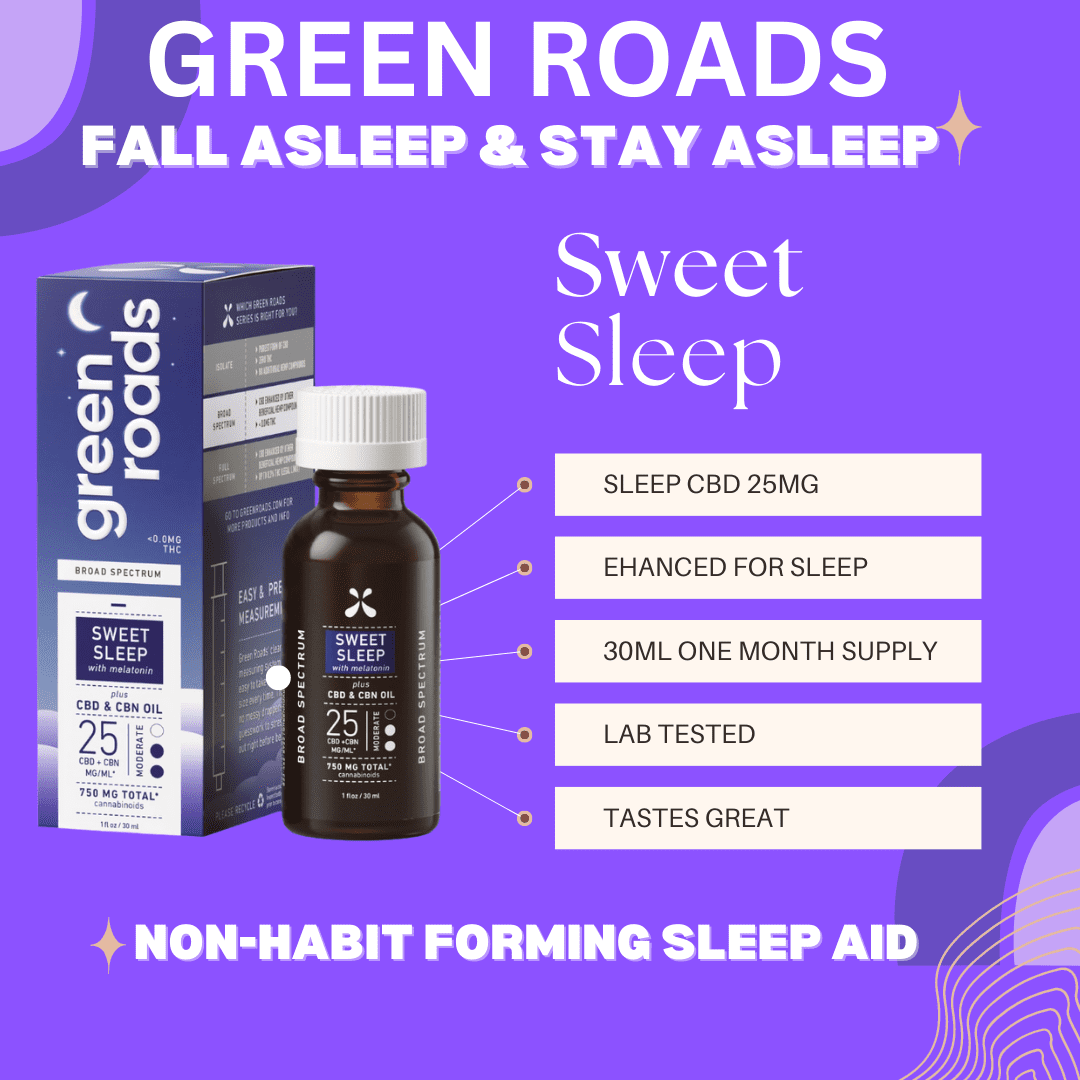 Ingredients:
Vitamin E (as tocopherols), hemp derived cannabidiol (CBD), hemp derived cannabinol (CBN), melatonin, vegetable glycerin, medium chain triglycerides, blueberry flavor, lecithin, and cannabis sativa (hemp) seed oil
Related Products:

Can I use CBD if I am pregnant/nursing?
If you are pregnant or nursing, we advise you to consult your personal healthcare professionals before using any CBD product.
Can you use CBD for stress?
Green Roads CBD oil can be used to help promote a sense of calm and support the management of normal day-to-day stress. Our products may also be able to support focus and help maintain normal emotional balance. Green Roads CBD products are not designed to treat, cure, or diagnose any form of anxiety disorders, mental health conditions, or other medical ailments.
Does CBD promote relaxation?
Our CBD products may promote relaxation and a calming effect. Green Roads CBD oils can also be used for everyday situations that may cause feelings of unease. The benefits of CBD may be different for everyone.
What is CBN?
CBN is a cannabinoid found in hemp plants like CBD. CBN is non-intoxicating, and while research into this compound is relatively new, there are indications CBN has properties that make it perfect for sleep formulas.
What is 5-HTP?
5-Hydroxytryptophan (5-HTP), also known as oxitriptan, is a naturally occurring amino acid. It's a common ingredient in many relaxation products including Green Roads CBD Relax Capsules.
What is Gaba?
Gamma aminobutyric acid (GABA) is a naturally occurring amino acid that experts say helps you relax and calms you down. It's a common ingredient in many relaxation products.