CBD With Apple Cider Vinegar Gummies 60ct
Unlock the potential of your wellness journey with our extraordinary Broad Spectrum CBD Gummies, each boasting a generous 50mg serving of CBD. What sets our gummies apart from the rest is their fusion of the remarkable detoxifying benefits of apple cider vinegar, a dash of vitamin B12 to boost your energy, and a dash of organic pomegranate, a powerful antioxidant. Get ready to embark on a health transformation like never before.
The Wonders of CBD With Apple Cider Vinegar Gummies
Apple cider vinegar, hailed as one of the most versatile and time-honored forms of vinegar, has graced homes with its myriad benefits for generations. It's crafted by fermenting the natural sugars of apples, ultimately transforming them into acetic acid, the star ingredient of vinegar. This magic elixir boasts remarkable properties, as acetic acid has been scientifically proven to eliminate and inhibit the growth of harmful bacteria. Here's how the magic unfolds:
Product Description:
Broad spectrum CBD – 50mg per serving
1000mg apple cider vinegar per serving
80mg of organic pomegranate, an effective antioxidant
Vitamin B12 for energy & immune function
All-natural, vegan & gluten-free
ND-THC***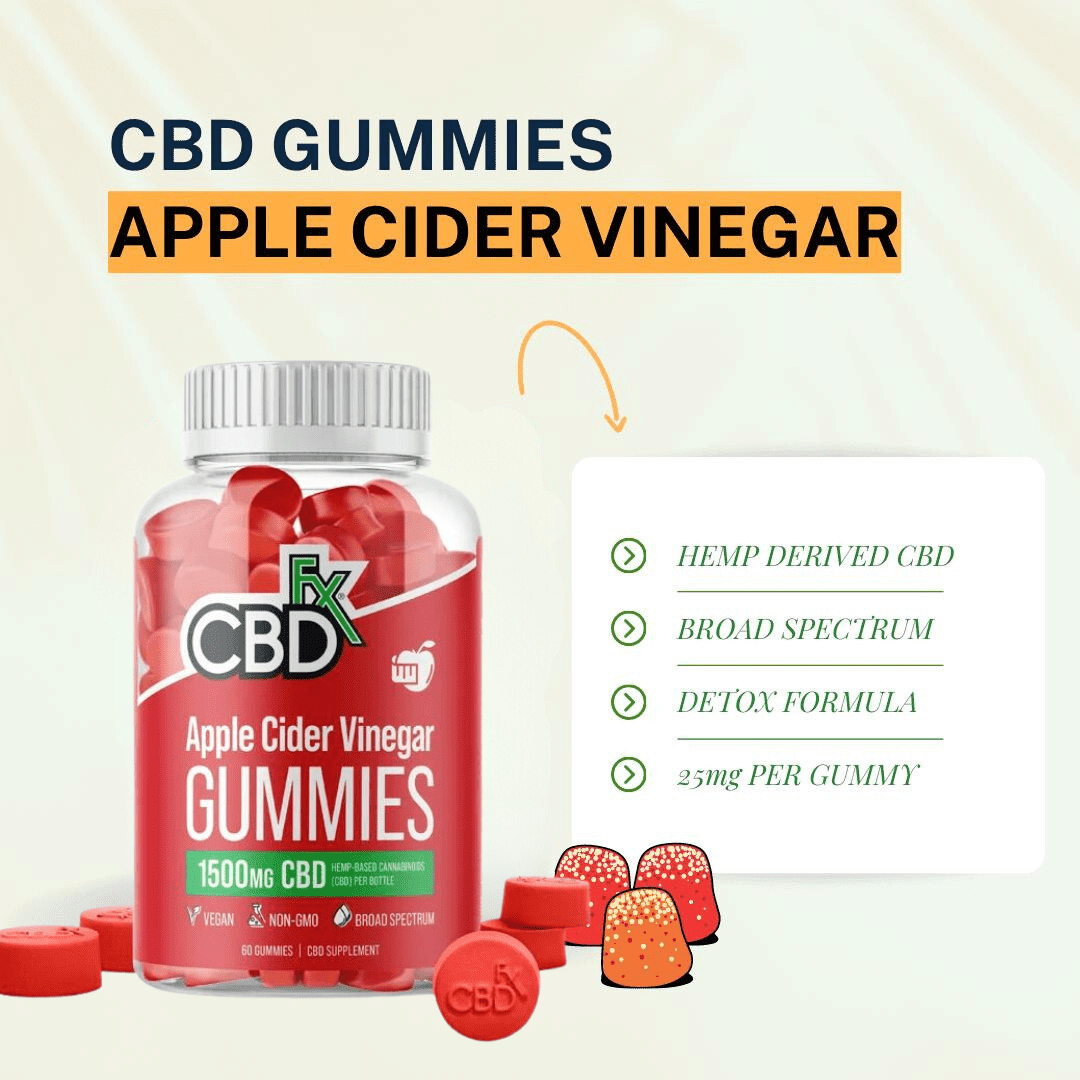 Healthy Blood Sugar Levels: The use of organic apple cider vinegar in studies has shown a promising link between the vinegar and the maintenance of healthy blood sugar levels. For those looking to keep their glucose levels in check, this natural elixir might be just what you need.
Weight Loss Aid: The apple cider vinegar diet is gaining popularity as a simple yet effective approach to weight management. By incorporating apple cider vinegar into your daily regimen, you can experience a sensation of fullness sooner, making you less inclined to overindulge. It's a strategic ally in your quest for a healthier weight.
Decoding the Apple Cider Vinegar Diet:
The Apple Cider Vinegar Diet is not your typical crash diet; it's a sustainable lifestyle shift. It centers around integrating apple cider vinegar into your dietary routine. This versatile approach allows you to consume it either with your meals or as a substitute for certain foods. The perks of this diet include:
Fullness on Demand: Thanks to the remarkable appetite-curbing properties of apple cider vinegar, you'll find yourself satisfied sooner, reducing the need for excessive calorie intake. Weight management becomes a breeze.
An Apple Cider Vinegar Detox: This dietary transformation effectively steers you away from unhealthy food choices, fostering a healthier lifestyle. Whether you prefer sipping a bit of apple cider vinegar before bedtime or opt for the convenience of apple cider vinegar capsules, you have flexibility tailored to your needs.
CBD-Infused Apple Cider Vinegar Gummies:
Now, imagine supercharging this remarkable journey with an infusion of premium CBD hemp extract, an additional 50mg serving per gummy! It's a match made in heaven, as CBD with apple cider vinegar gummies join forces to create an edible that's as close to perfection as it gets. Say goodbye to the challenge of sipping apple cider vinegar and embrace a tastier, more convenient path to wellness.
Pros:
Powerful CBD Boost: Each gummy is packed with 50mg of premium CBD hemp extract, delivering the therapeutic benefits you crave. Whether you're seeking relaxation or relief, these gummies have you covered.
Apple Cider Vinegar Benefits: Enjoy the advantages of organic apple cider vinegar, from its potential to regulate blood sugar levels to its role in facilitating weight management.
Convenience and Tastiness: No more struggling with the sharp taste of apple cider vinegar; our gummies offer a delightful alternative. They're easy to consume and perfect for those on the go.
Antioxidant Punch: With organic pomegranate as an ingredient, you're getting a dose of antioxidants, helping to combat free radicals and support overall health.
Cons:
Individual Taste Preferences: While many will love the taste of these gummies, it's essential to note that personal taste can vary. Some may still prefer the traditional tang of apple cider vinegar.
CBD Sensitivity: If you're new to CBD, start with a smaller dosage and monitor your body's response. These gummies pack a substantial 50mg per serving, which might be too potent for beginners.
Regulatory Considerations: Be aware of the legal status of CBD products in your area, as it varies from place to place. Always ensure compliance with local regulations.
Elevate your wellness journey to new heights with our Broad Spectrum CBD with Apple Cider Vinegar Gummies. Unite the wonders of CBD, apple cider vinegar, and pomegranate, and savor the delicious path to a healthier you, discover the power of CBD with Apple Cider Vinegar Gummies Today!
Related Products:

What are the benefits of CBD with apple cider vinegar gummies?
Apple cider vinegar is an extremely popular form of vinegar, mainly because of its acetic acid content. Acetic acid is the main active ingredient in vinegar, and has multiple wellness and diet benefits.
How do I use CBD with Apple Cider Vinegar Gummies?
You can consume apple cider vinegar in countless different forms, ranging from drinking the vinegar straight to consuming it as a pill or other type of edible. You can have these gummies at any time of day that you desire, and they can be a great source of acetic acid at a moment's notice.
What are the benefits of CBD with apple cider vinegar gummies?
Aside from the beneficial ingredients found within the apple cider vinegar itself, the main benefits of apple cider vinegar pills and gummies are their size and quantity. Any edible products infused with apple cider vinegar allow you to easily consume a serving of acetic acid and other goodies found within the vinegar at any time of day. This ease of use is especially useful when you purchase gummies that pair CBD with apple cider vinegar.
Does apple cider vinegar go bad?
What's interesting about apple cider vinegar is that it never truly goes "bad." While you will see a decline in quality at the 2-year mark, you won't see it ever actually expire. As far as its gummy form is concerned, we think you'll be impressed by the shelf life of our CBDfx Apple Cider Vinegar Gummies as well!
What other ingredients are in CBD with Apple Cider Vinegar Gummies?
In our apple cider vinegar gummies, you'll also find 25mg of organically grown CBD hemp extract per gummy, as well as 1mg of magnesium and 1.2mcg of Vitamin B12. Additional ingredients include natural flavoring and coloring, seaweed extract and organic cane sugar.
What does magnesium do?
Magnesium has been found to support bone health and cardiovascular health. It may also address some of the physical discomforts that you experience.