Womens Multi Vitamin CBD Gummy 60ct
Unlock the Power of Womens Multi Vitamin CBD Gummies
Are you ready to supercharge your wellness journey? Our Womens Multi Vitamin CBD Gummies empower your body to perform at its peak, offering an abundance of vitamins and nutrients in one delicious package. These gummies lay the foundation for a stronger immune system, enhanced well-being, and elevated energy levels, ensuring you're prepared to tackle each day with confidence.
The Importance of Womens Multi Vitamin CBD
Many of us strive to maintain our recommended daily intake of vitamins and nutrients, but is your current routine truly delivering what your body needs? If you find yourself falling short, our Multivitamin Gummies provide a convenient solution. They help ensure that your body doesn't suffer from vitamin deficiencies, a condition that can impact multiple aspects of your life.
Product Description:
50mg of Broad Spectrum CBD per Serving
With Vitamins A, C, D3, E, B Complex, Calcium & Zinc (Women's)
Vegan & Gluten-Free
ND-THC***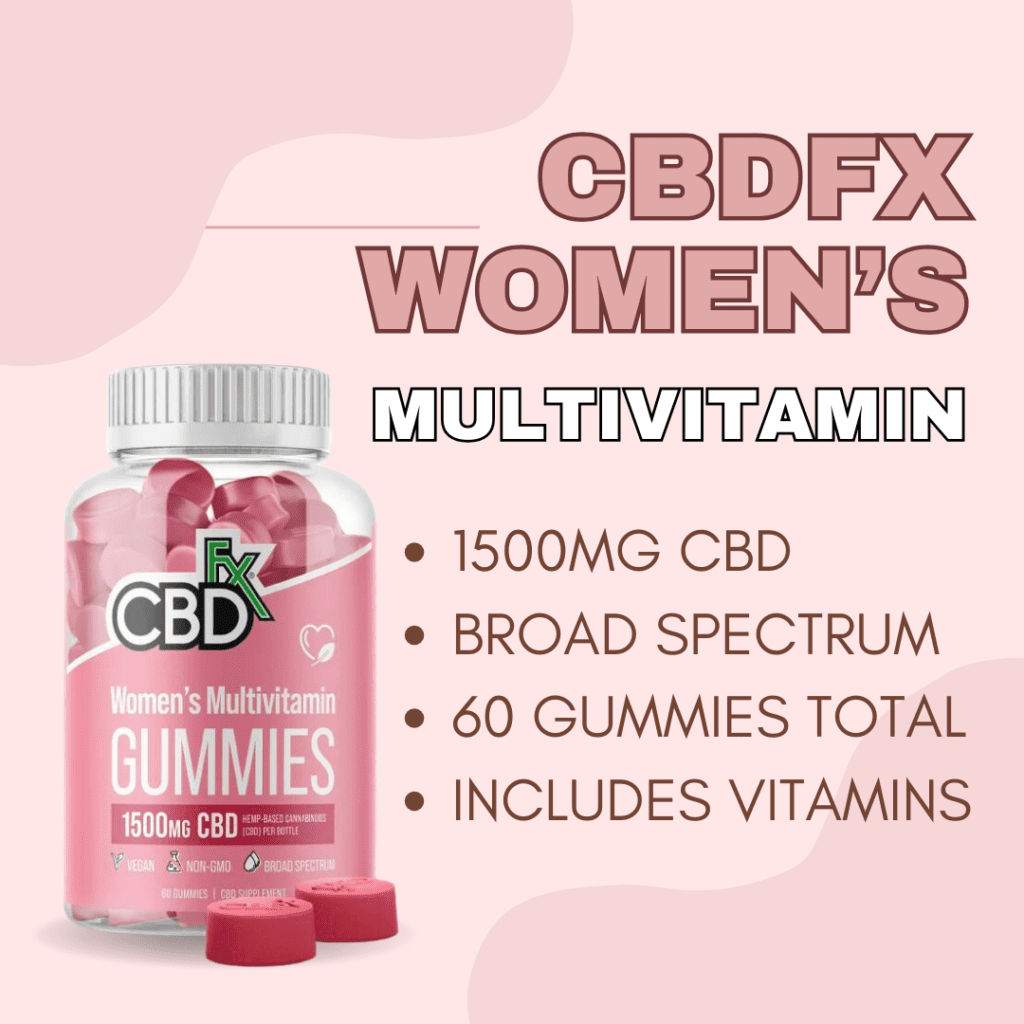 Pros:
Convenient Wellness: Our Womens Multi vitamin CBD Gummies offer a convenient and delicious way to enhance your daily health routine, providing a wide array of essential vitamins and nutrients.
Gender-Specific Formulas: Tailored for women , these gummies cater to the unique nutritional needs of you, ensuring comprehensive well-being.
All-Natural Ingredients: Both gummies contain only all-natural ingredients, making them suitable for vegans and those with gluten sensitivities.
Variety of Essential Nutrients: With vitamins A, C, D3, E, B Complex, Calcium, Zinc, Biotin, Pantothenic Acid, and Choline, these gummies offer a comprehensive blend of nutrients to support your health.
Enhanced Immunity: Key vitamins like C and D3 contribute to a robust immune system, helping your body stay resilient.
Increased Energy Levels: B12 and other essential nutrients aid in boosting your energy, keeping you active throughout the day.
Nutrient-Rich Benefits: Beyond just vitamins, the gummies offer benefits like improved hair, skin, and nail health, as well as cognitive function and bone strength.
Cons:
Dosage Management: To ensure the best results, it's important to manage the daily gummy intake, and vitamin supplements may not fully replace a balanced diet.
Variable Signs of Deficiency: While these gummies address common signs of vitamin deficiency, individual symptoms may vary depending on the specific nutrients your body lacks.
Common Signs of Deficiency
Are you experiencing any of the following signs of vitamin deficiency?
Fatigue: Feeling constantly drained is a common symptom.
Bleeding Gums: Sensitive, bleeding gums can indicate a deficiency.
Brittle Hair and Nails: A lack of essential vitamins can lead to hair and nail issues.
Muscle Pain and Stiffness: Vitamin deficiencies can cause discomfort.
Cognitive Challenges: Difficulty thinking clearly may be linked to inadequate nutrients.
Constant Cold Sensation: If you often feel cold, your body may lack vital vitamins.
Mood Fluctuations: An unstable mood can be a sign of nutrient shortages.
Headaches: Frequent headaches can signal a deficiency.
The Key Vitamins You Need
Vitamin A: Essential for vision and immune health.
Vitamin B12: Boosts energy, supports memory, and contributes to bone health.
Vitamin C: Enhances immunity, collagen production, and cognitive function.
Vitamin D3: Derived from the sun, it aids in calcium absorption, immunity, and mood enhancement.
Take Control of Your Well-being
Take charge of your health with just two gummies a day. By incorporating our Womens Multi vitamin CBD Gummies into your daily routine, you'll ensure your body receives the vital vitamins and nutrients it requires for stronger immunity, elevated energy levels, and a profound sense of calm. There's no better time to prioritize your well-being, and our gummies make it easy, enjoyable, and nutritious.
Related Products:

Are there womens multi vitamin CBD gummy effects?
The effects of any multivitamin gummy are going to be determined by the vitamins present in the product. In this instance, you'll be consuming vitamins A, D3 and B12, among many, many others. Most of the vitamins in this gummy are useful for converting food into energy for your body, as well as reinforcing many of your body's important biological systems!
What is Biotin, exactly?
Biotin is a member of the B vitamin family, which includes some of the most important vitamins for your body's wellbeing. While it is useful for converting food to energy, it has also been found to support the health of your skin and hair, along with many other vital bodily functions. There are 300mcg of biotin in each gummy.
What does pantothenic acid do?
Pantothenic acid is another member of the B vitamin family, and as such it helps your body convert food to energy. It's an incredibly important vitamin for humans, since it's crucial for creating red blood cells. Additionally, it can help your body maintain a healthy digestive tract when consumed. There are 5mg of pantothenic acid in each gummy.
Can I take CBD oil in multivitamin gummies?
A similar question is, "should you take a multivitamin with CBD oil?" The answer to both is: absolutely! CBD is perfectly fine to take alongside the vitamins and other compounds found in multivitamin gummies. When you consume a CBD multivitamin, you're taking in the combined goodness of the vitamins and the CBD extract, making the experience even more enjoyable!
Where can I buy womens multi vitamin CBD gummies?
Right here on TheDailyDose.co! We offer an array of gummies with unique and exciting ingredients, and our men's multivitamin gummies are some of the best. You won't find a product quite like this one, filled to the brim with helpful vitamins and topped off with the industry-leading CBD hemp extract that we've come to be known for!
When should I take hemp womens multi vitamin CBD gummies?
You can take hemp CBD multivitamin gummies whenever you feel like they'd be the most enjoyable. There is no bad time for CBD oil in multivitamin gummies, so you can take one or two in the morning, afternoon or night, depending on your personal preferences.
What is Vitamin B12?
Vitamin B12 is a type of nutrient that, once consumed, is capable of keeping the body's nerves and blood cells healthy. It also allows your body to convert food into energy more effectively. It can be found naturally in certain types of foods, as well as in many multivitamin CBD gummies.
What is Phosphorus?
Phosphorus is one of the most plentiful minerals in your body, only trailing behind calcium. While it serves various functions, it might best be known for its assistance in growing, maintaining and repairing our body's tissue and cells. It also helps to manage how your body stores and uses energy!