Mushroom Wellness Gummies CBDfx 60ct
Discover a unique fusion of nature's wisdom in our CBD Gummies with Mushrooms for Wellness. This extraordinary combination marries the calming benefits of CBD with the adaptogenic and nootropic properties of seven potent mushrooms, including chaga, cordyceps, lion's mane, and more.
With each serving, you receive a substantial 50mg of mushroom goodness. Dive into the delicious black cherry flavor and make these gummies a vital part of your daily wellness regimen.
Product Description: Mushroom Wellness Gummies 1500mg
50mg broad spectrum CBD per serving
Adaptogenic & nootropic mushroom blend with chaga, cordyceps, lion's mane, reishi, maitake, turkey tail & shiitake (50mg total mushrooms per serving)
60 Gummies Per Bottle
1500mg Total
Delicious natural cherry flavor
Great for health & wellness
Organic, vegan & non-GMO
ND-THC***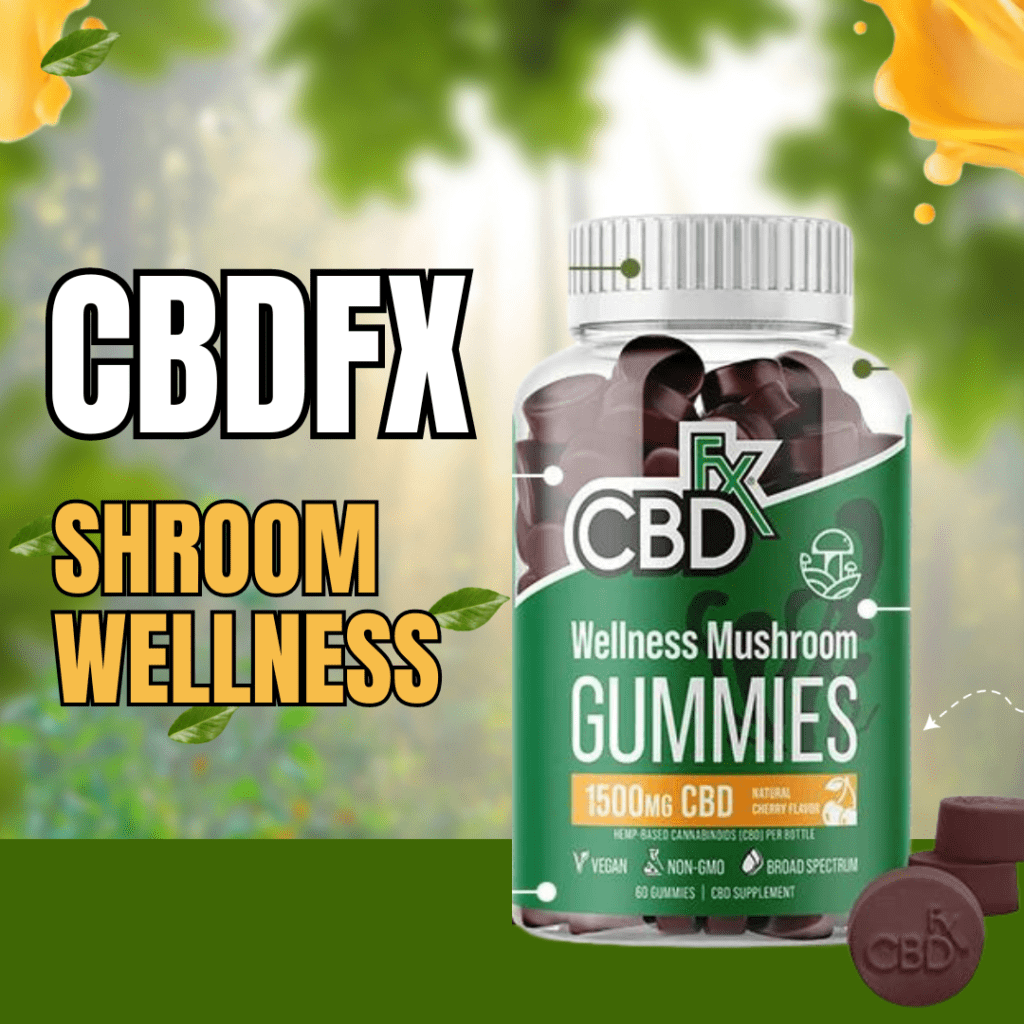 Experience the Wisdom of Mushroom Wellness Gummies
For millennia, people have turned to mushrooms for their wellness potential. Our CBD Mushroom Wellness Gummies combine the adaptogenic and nootropic properties of seven carefully selected mushrooms:
Chaga: A treasure trove of vitamins and minerals, chaga mushrooms offer adaptogenic and nootropic benefits.
Cordyceps: Known for their energy-boosting qualities and rich vitamin content.
Lion's Mane: Enhance mental clarity and access an array of essential nutrients with lion's mane.
Reishi: A source of vitamin D, amino acids, and more, known for its adaptogenic effects.
Maitake: Packed with vitamins B and C, copper, amino acids, and dietary fiber, ideal for overall wellness.
Turkey Tail: A great source of antioxidants and vitamins B3 and D, contributing to immune support.
Shiitake: Recognized as both an adaptogenic and nootropic mushroom, boasting numerous wellness properties.
Pros:
Synergy of CBD and Mushrooms: Harness the therapeutic synergy of CBD and seven remarkable mushrooms to promote holistic wellness.
Potent Mushroom Extracts: Our gummies are enriched with the purest and most potent mushroom extracts, harvested and organically grown in the USA.
Adaptogenic and Nootropic Benefits: Each mushroom offers adaptogenic and nootropic benefits, providing mental clarity and adaptability to daily challenges.
Nutrient-Rich: Loaded with essential vitamins, minerals, amino acids, and dietary fiber, our gummies provide a natural nutrient boost.
Cons:
Digestive Absorption: Gummies are digested before absorption, taking 30 minutes to two hours for the full effect. Factors like metabolism and body mass can affect absorption time.
Not Suitable for Magic Mushroom Enthusiasts: These gummies do not contain psychedelic psilocybin found in "magic mushrooms."
Unveiling the Magic of CBD Mushroom Wellness Gummies
Experience mushroom wellness gummies and nourishment in a delightful flavorful gummy. Each serving of our CBD Mushroom Gummies delivers 50mg of CBD paired with the health-boosting power of seven mushrooms.
As an edible supplement, these gummies take 30 minutes to two hours to traverse the digestive system before absorption. The calming effects of CBD can last up to eight hours, varying based on individual factors.
Store your CBD Mushroom Gummies in a cool, dark place to maintain their potency. Please note that these gummies do not contain "magic mushrooms" with psychedelic compounds like psilocybin.
Your Wellness Journey with CBDfx
At CBDfx, we prioritize your well-being. Our CBD products are derived from organic hemp, ensuring freedom from pesticides, heavy metals, and toxins. We employ clean and efficient carbon dioxide extraction methods to guarantee the purity and potency of our CBD products.
To further ensure your safety, we provide a Certificate of Analysis (COA) for every product, allowing you to verify the contents and the absence of any harmful substances. Your wellness is our commitment.
Discover the transformational potential of CBD Mushroom Gummies and embark on a journey towards holistic well-being. It's time to unlock the power of nature and make a conscious choice for your health and vitality.
Related Products:

What are mushroom wellness gummies good for?
Our shroom gummies with CBD are formulated to improve your overall health and wellness.
Can you trip or get high on CBD Mushroom Gummies?
No, you cannot trip or get high by taking our Wellness Gummies. The CBD used in our gummies is broad spectrum CBD, which has the trace amounts of THC found in hemp oil filtered out. And none of the mushrooms that we use in our Wellness Gummies contain psilocybin, the hallucinogenic compound that creates psychedelic effects for users in "magic mushrooms."
Do CBD Mushroom Gummies contain magic mushrooms, shrooms, or mushies?
"Magic mushrooms" (a.k.a. "mushies" or "shrooms") is a term used for mushrooms that contain the hallucinogenic compound, psilocybin. None of the mushrooms we use in our CBD Mushroom Gummies contain this "magical" compound.
Are CBD Mushroom Gummies okay for a vegan diet?
Yes, our Wellness Gummies are 100% vegan. These tasty gummies are also organic and non-GMO.