Magic Mushrooms With THCp Gummies Dozo Dont Trip
NOTICE: This Product Is Psychoactive. Please Use Responsibly, Do Not Operate A Motor Vehicle.
Introducing the future of cannabis-infused treats: Magic Mushrooms with THCp Gummies 700mg Nano Activated! These delectable gummies combine the best of two worlds, blending the enchanting effects of magic mushrooms with the unique properties of THCp (Tetrahydrocannabiphorol) to provide you with an experience unlike any other. With Nano Activation technology, these gummies offer rapid absorption, ensuring that your journey into the world of psychedelics and cannabinoids is as smooth and potent as it can be.
Product Description:
5 Gummies Per Pack
Amanita Mushroom Extract
Infused With THCp
700mg Per Gummy
Nano Activated Extract Blend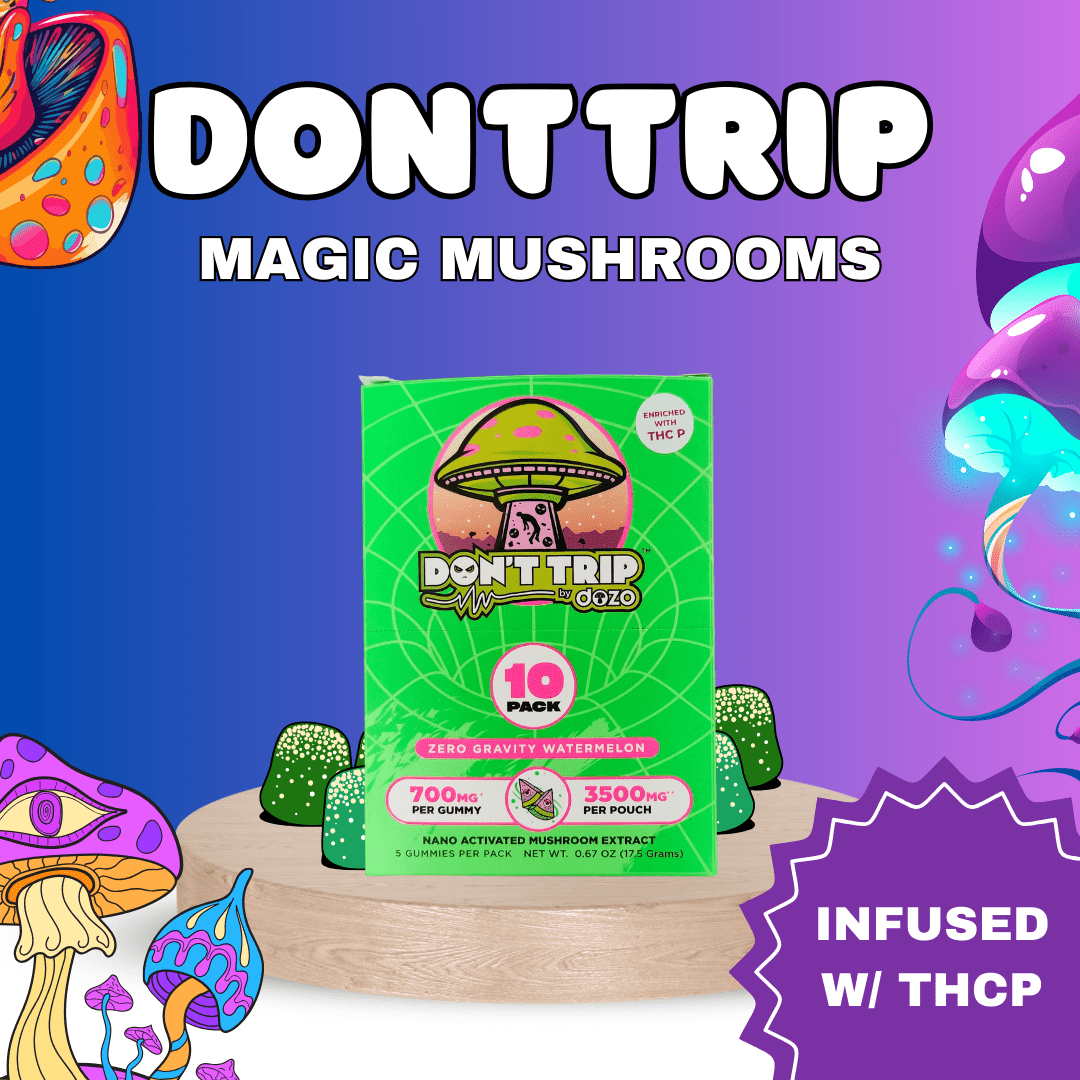 Magic Mushrooms with THCp Gummies 700mg Nano Activated offer a tantalizing journey into the world of cannabinoids and psychedelics. The unique combination of magic mushrooms and THCp, along with Nano Activation technology, sets these gummies apart in terms of potency and rapid onset. However, they come with specific considerations, and responsible consumption is paramount.
Pros:
Unique Combination: Magic Mushrooms with THCp Gummies offer a groundbreaking fusion of psilocybin and THCp, creating a truly one-of-a-kind experience for those seeking a new adventure.
Nano Activated: Our gummies use cutting-edge Nano Activation technology, allowing for faster and more efficient absorption, so you can start feeling the effects more quickly and consistently.
Precise Dosage: Each gummy contains 700mg of the combined magic mushroom and THCp, providing a clear and reliable dose for your journey.
Convenient and Discreet: The gummies come in a convenient, portable form, perfect for on-the-go use. They're also discreet, so you can indulge without drawing unwanted attention.
Enhanced Effects: THCp is believed to be more potent than THC, offering a unique and intensified cannabis experience, making it an excellent choice for those looking for a powerful and unforgettable high.
Cons:
Potency Warning: Due to the high dosage of 700mg, these gummies are not recommended for beginners or those with low tolerance. Novice users should start with smaller doses to avoid overconsumption.
Legal Restrictions: Be sure to check your local laws and regulations regarding magic mushrooms and THCp products, as they may not be legal in all areas.
Possible Side Effects: As with any potent psychoactive substances, side effects can include paranoia, anxiety, and hallucinations. Always use responsibly and in a safe environment.
Taste Variability: The taste of these gummies might not be for everyone, as they can have a distinct earthy or bitter flavor due to the presence of magic mushrooms.
Always ensure that you are in compliance with local laws and regulations, and never hesitate to seek medical advice if you have any doubts about your ability to handle the effects of these gummies. If you're ready for an unforgettable adventure, these gummies may just be your ticket to a whole new realm of experiences, discover Dont Trip Magic Mushrooms With THCp Gummies Today.
Related Products:

What is THCp, and how is it different from THC?
THCp, or Tetrahydrocannabiphorol, is a cannabinoid that is believed to be more potent and psychoactive than THC. It has the potential to produce a more intense and unique high compared to traditional THC.
Are these gummies safe to consume?
These gummies should be used responsibly and in moderation. If you have any underlying medical conditions, it's essential to consult a healthcare professional before consuming them. Additionally, ensure that you are in a safe and comfortable environment.
How long does it take for the effects to kick in?
Thanks to Nano Activation technology, you can expect the effects to kick in more rapidly than with traditional edibles. Generally, you might start feeling the effects within 30-45 minutes after consumption.
Can I mix these gummies with alcohol or other substances?
We strongly discourage mixing these gummies with alcohol or other substances. Combining different psychoactive compounds can lead to unpredictable and potentially harmful effects. Please use responsibly and avoid mixing.
Are there any specific health conditions that may interact negatively with these gummies?
Individuals with a history of mental health conditions, heart problems, or those who are pregnant or nursing should avoid using these magic mushrooms with thcp gummies. If you have any concerns about your health, it's best to consult with a medical professional before consumption.