K80 Kratom Extract Liquid
Nowadays there is a return to the basics for many people. Everyone is looking for a holistic way to handle health problems so they can abstain from often harmful prescription medications. Kratom, obtained from the tropical Mitragynine speciosa tree, is a favored herbal supplement. Cultivated in SE Asia, the alkaloid-laden plant substance has been favored for centuries for its reputed holistic benefits. Many leading brands have emerged to provide premium products for the growing needs of consumers. Krave kratom is one of those leaders with favored products like their K80 kratom shots.
Product Details:
100% organically grown and harvested with care by native farmers who specialize in Kratom production
Powerful and quick-hitting K80 Kratom Shot made for the experienced user
Each bottle contains 7-8g of crushed leaf powder
All-natural herbal supplement that doesn't use any added chemicals or foreign ingredients
Extract
Liquid Kratom
80% Concentration
Recommended For Experienced Users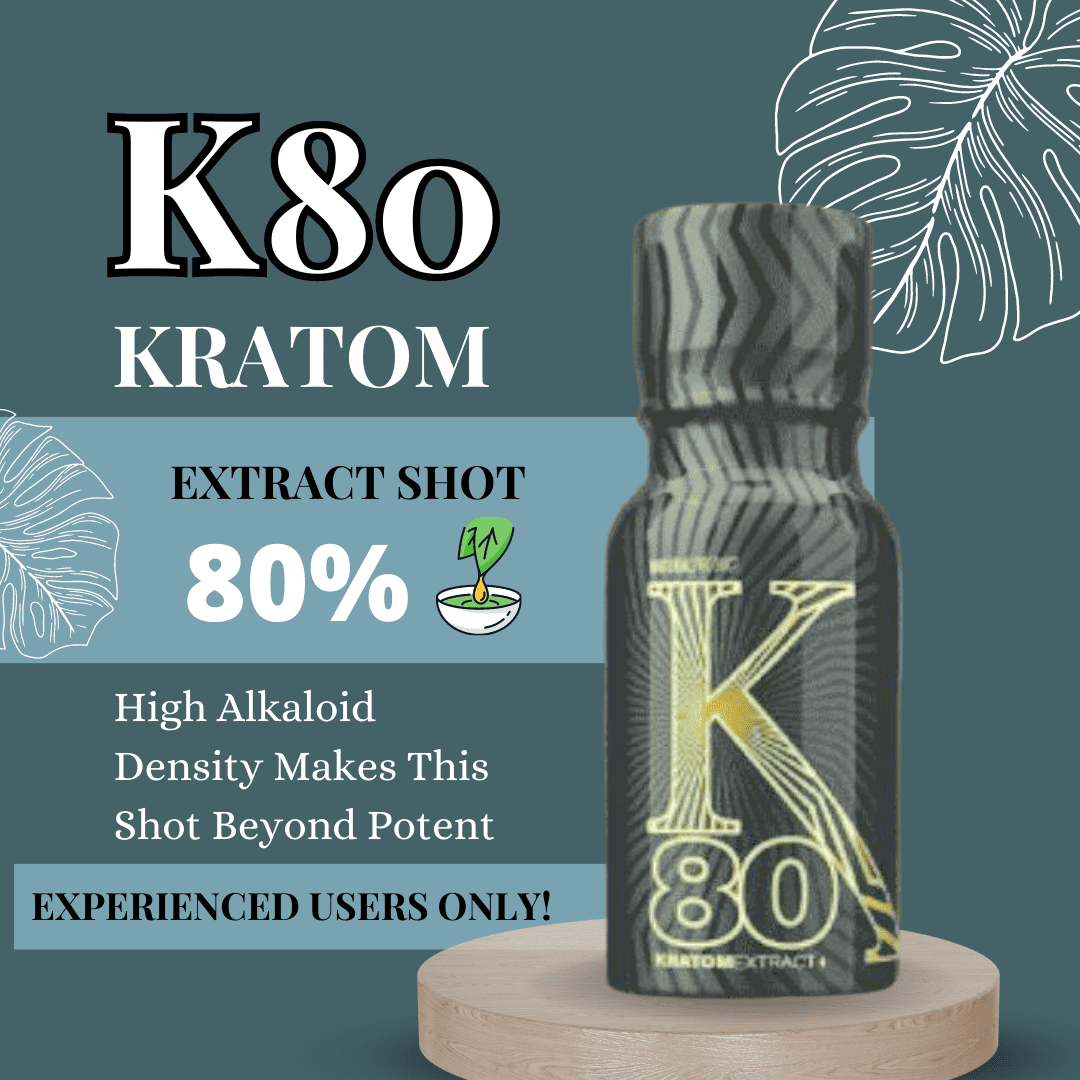 If you have an appetite for strong and potent Kratom then the K Shot 80 Kratom is just what you need. This Kratom Shot is a high dosage and beyond powerful product that should be used with caution. It may not be preferential for beginners but experienced kratom users will certainly find a liking to it.
7-8 grams of kratom powder are crushed in each serving so we hope your tolerance is up for the challenge. The effects kick in quickly so please enjoy responsibly.
What is Kratom Extract?
Kratom extract can come in two forms: an extracted tincture, known as kratom liquid extract, or kratom powder extract.
The alkaloids, such as 7-hydroxymitragynine, are obtained from crushing and boiling high-quality kratom leaves. Modern kratom liquid extracts come in the form of tinctures, teas, oils, and even shots. Even among kratom extracts, liquid extracts are considerably more potent than powder extracts and standard kratom powder.
Liquid extracts affect the user instantly and are much longer-lasting than other kratom products.
Kratom powder extract is a dark-colored powder with a strong odor. It's derived from dry kratom leaves. The powder may be present in drinks, capsules, and pills.
Regardless of the delivery method, an extract is the most concentrated form of kratom available.
Related Products:

Who should consider using kratom extract?
Most alkaloid dense kratom shots are for advanced users with extensive experience. If your new to kratom you should consider something like leaf kratom in powder or capsules as a place to explore first.
How fast do extract liquids work?
Extract shots are a highly effective method for delivery, not only is it concentrated but delivered via liquid that you drink has shown to work for most with minutes.