OPMS Mitragyna Hirsuta Capsules 30ct
Mitragyna Hirsuta serves as a excellent alternative for Kratom users that want something with a little bit of a milder effect. It has a very soothing and gentle feel to it and helps relieve people with pain and tension in their muscles and as a stimulant or sedative depending on how much you use it.
OPMS Silver is known to be a very different strain than others, its stronger and tends to have a stronger effect. It's because it entails a mixture of plain leaf and a certain amount of extract.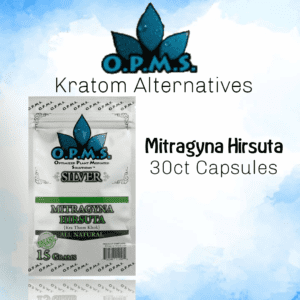 What is Mitragyna Hirsuta
Mitragyna Hirsuta commonly known as "Kra-Thum-Khok" in its native regions of Cambodia, Thailand and Vietnam. There is a alkaloid within Hirsuta that is very similar to Mitragynine which is found in Kratom. The alkaloid is named Mitraphylline. Hirsuta is related to kratom also know as Mitragyna Speciosa. It is a milder version of Kratom so it still bears similar effects.
30 Capsules per package.
Helpful Articles:
Related Products: