Amanita Mushroom Vape Extract
Introducing the revolutionary Amanita Mushroom Vape Extract by Exodus Mushy Vapes – a gateway to the mystical world of fungi. Unveil the awe-inspiring potential of the Amanita muscaria mushroom, harnessed through cutting-edge vape technology.
Step into a realm where ancient wisdom meets modern convenience, as we bring you the ethereal experience of Amanita in a vape extract like no other. Let the enchantment begin, as you explore the endless possibilities this unique product offers.
Product Description:
Premium Amanita Extract
Infused With Hemp Extract
2.2 Grams Per Vape
Contains Muscimol (Active Ingredient In Amanita)
Rechargeable Battery (USBC)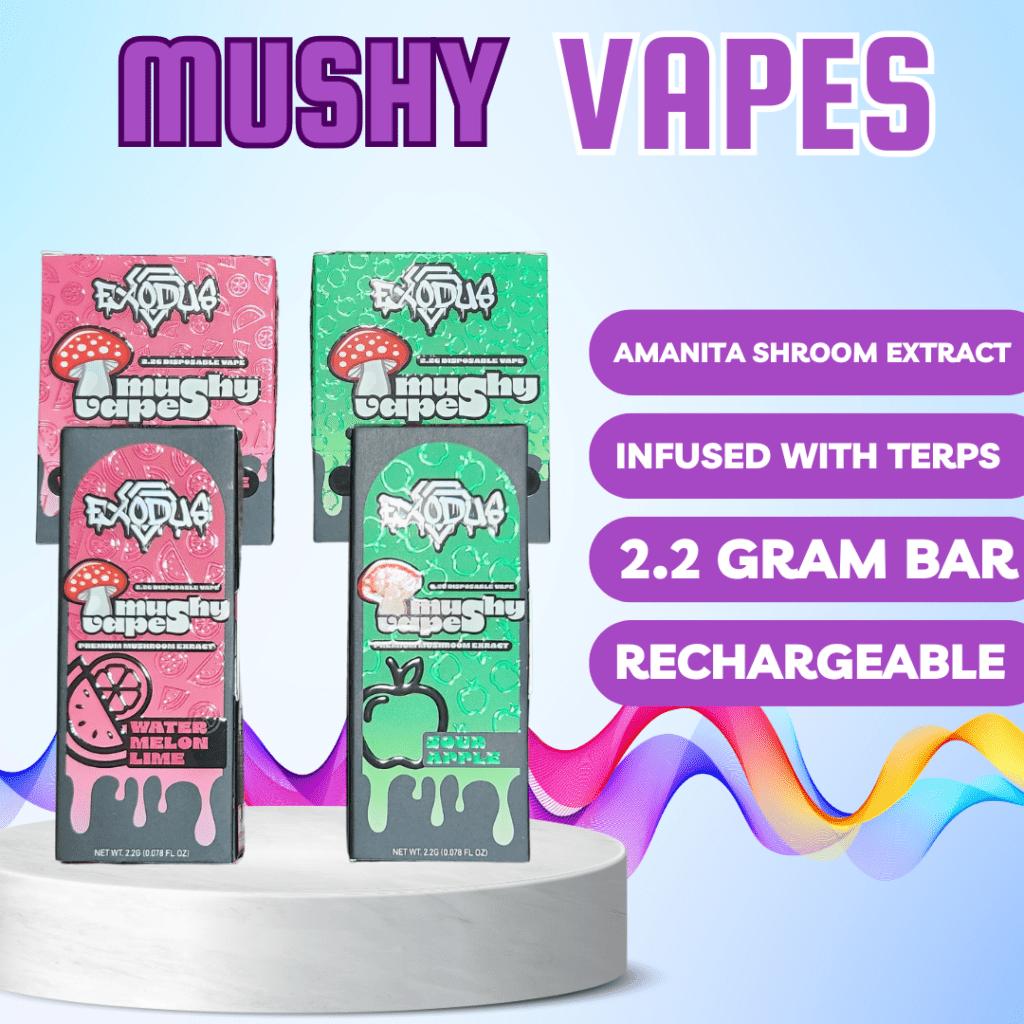 Exodus Mush Vapes invites you to embark on an extraordinary journey with our Amanita Mushroom Vape Extract. Let this unique product be your portal to the captivating world of Amanita muscaria, where nature's magic and modern technology intertwine for an unparalleled experience.
Immerse yourself in the enchanting possibilities that await, and step into a realm of inspiration and creativity with every puff of the amanita mushroom vape bar.
Pros:
Unprecedented Experience: Elevate your vaping journey to a new dimension, tapping into the enigmatic powers of Amanita mushrooms.
Convenient Vaping: Enjoy the therapeutic benefits of Amanita effortlessly with the convenience of a vape extract, offering quick and discreet access to its effects.
Enhanced Mood and Creativity: Amanita mushrooms have been linked to mood enhancement and increased creative thinking, making this vape extract a potential source of inspiration.
Precise Dosage: Exodus Mush Vapes ensures a precise and controlled dosage with each puff, allowing you to tailor your experience to your preferences.
Cons:
Legal Considerations: Amanita muscaria is subject to varying legal regulations worldwide. Ensure you are aware of the legality in your region before purchasing.
Unique Taste: The flavor of Amanita vape extract is distinct and may not appeal to everyone. Consider your flavor preferences before trying.
Related Products:

What is Amanita muscaria?
Amanita muscaria, commonly known as the fly agaric mushroom, is a well-known psychedelic mushroom with a long history of use in various cultures for its psychoactive properties. It contains compounds like muscimol and ibotenic acid, which contribute to its effects.
Is Amanita muscaria legal?
The legal status of Amanita muscaria varies by country and region. It's essential to research and understand the specific laws and regulations in your area before considering its use.
How does Amanita vape extract work?
The Amanita vape extract is designed to be inhaled, allowing for the rapid absorption of its active compounds. The effects may include altered perceptions, relaxation, and a potential increase in creative thinking.
Are there any safety precautions to consider when using Amanita vape extract?
Yes, safety is paramount. Always follow the recommended dosage guidelines provided with the product. It's crucial to use Amanita vape extract in a controlled and safe environment, ideally with a trusted individual present. If you have any pre-existing medical conditions or are taking medication, consult with a healthcare professional before use.
What can I expect from using Amanita vape extract?
Experiences can vary widely depending on dosage, individual sensitivity, and setting. Users have reported effects such as altered perception, relaxation, and heightened creativity. However, please remember that individual reactions may differ.
Is Amanita vape extract addictive?
Amanita muscaria is not considered addictive in the same way as substances like nicotine or opioids. However, some individuals may develop a psychological dependence on its effects, and responsible use is essential.
How do I store Amanita vape extract?
Store the vape extract in a cool, dark place, away from direct sunlight and moisture, to maintain its quality and potency.