Cactus Labs Amanita Extract 500mg
Embark on an odyssey of serenity and unveil the concealed treasures of tranquility with our exquisitely crafted Cactus Labs Amanita Extract Gummies.
Meticulously blended with the choicest natural components and age-old wisdom, these delightful gummies offer a distinctive amalgamation of elements to bestow inner harmony amidst the bustling tapestry of your daily existence.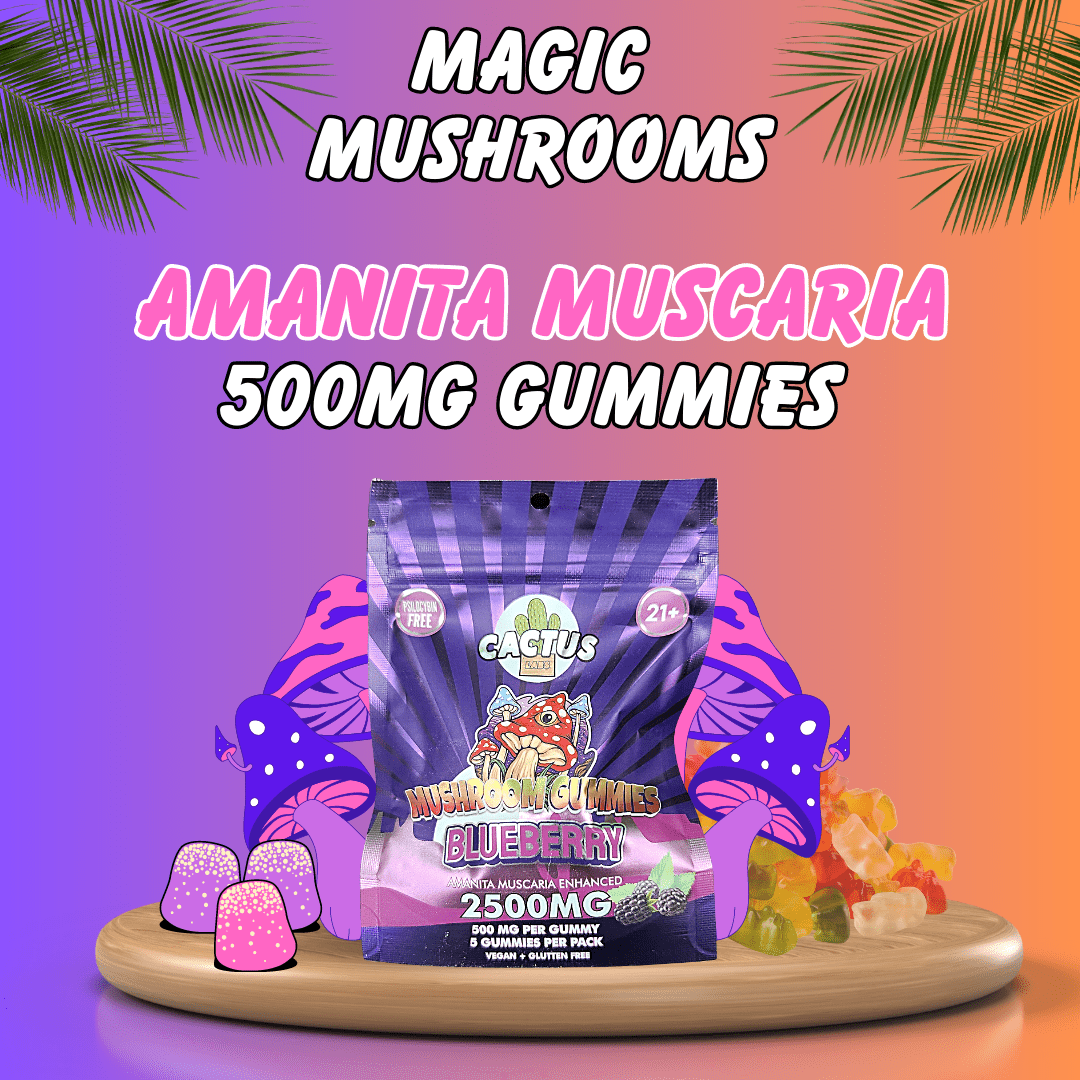 Supplement Facts:
Assorted Flavors in a 5-piece pack
500mg Per Gummy
Contains Muscarine & Muscimol
Suitable for Vegan & Gluten-Free Diets
Serving Size: 1 Gummy (Dosage Must Not Be Exceeded)
This Product Is Psychoactive – Please Consume Responsibly
Embrace Serenity and Amplify Your Well-being
Partake in the comforting influence of Amanita extract and bask in an overwhelming sense of composure and serenity. Expertly concocted, our gummies contain a potent fusion of Amanita muscaria extract and other natural compounds well-regarded for their stress-alleviating attributes.
Release the burdens that weigh you down and embark on a transformative expedition towards a more balanced and harmonious life.
Fosters relaxation and alleviates stress
Cultivates a tranquil and placid state of mind
Elevates overall well-being and inner equilibrium
Unlock Your Mind's Potential with Cactus Labs Amanita Extract Gummies
Unleash the untapped potential of your mind with our avant-garde Amanita Extract Gummies. Engineered to invigorate cognitive function and augment mental lucidity, these gummies serve as a gateway to uncharted realms of creativity and focus, enabling profound self-discovery.
Whether you're a scholar seeking heightened productivity or a professional in pursuit of a competitive edge, our gummies proffer a natural and efficacious solution.
Augments focus, memory, and mental prowess
Supports cognitive function and lucidity
Sparks creativity and boosts productivity
Enhances introspective and critical thinking abilities
The psychoactive effects provide the impetus to shatter barriers of self-doubt
Unlock a Restful Night's Sleep with Cactus Labs Amanita Extract Gummies
Dissolve into a realm of blissful slumber and awaken rejuvenated with the aid of our Amanita Extract Gummies. Designed to promote profound and restorative sleep, these gummies serve as your ticket to a revitalizing night of repose. Bid farewell to sleepless nights and embrace the allure of waking up revitalized and poised to conquer the day.
Experience the efficacy of natural sleep support
Effortlessly drift into dreamland with the help of Amanita extract
Infused with calming compounds to induce peaceful slumber
Bolsters healthy sleep patterns and helps overcome insomnia
Mitigates nocturnal restlessness and enhances sleep quality
Related Products:

What are the main ingredients in Cactus Labs Amanita Extract Gummies?
Amanita Extract Gummies contain Amanita muscaria extract, Muscarine, and Muscimol, combined with other natural ingredients.
How much Amanita extract is present in each gummy?
Each Amanita Extract Gummy contains 500mg of Amanita extract.
Can Amanita Extract Gummies cause psychoactive effects?
Yes, Amanita Extract Gummies are psychoactive. It is essential to use them responsibly and be aware of their potential effects.