Capture Exceptional Sleep With These CBN
Softgel Capsules a new sleep aid supplement
100% Vegan
Our CBN Capsules are designed to provide a smaller, concentrated dose of CBN a sleep aid supplement in every serving—increasing delivery and bioavailability, helping you enter calm and relaxation before bed.
These pre-measured capsules are the perfect option for users who require less CBN per dose, prefer to avoid flavored tinctures or gummies, or want to systematically increase their dose in precise increments of 5 mg CBN to find their best sleep.
This product contains ZERO THC.
Legal to take in the United States.
5 mg CBN per softgel capsule.
What Is CBN and whats the difference between CBN & CBD?
Learn more about CBN from my podcast The Daily Dose
NO
NEGATIVE SIDE
EFFECTS*
CONTAINS
NATURAL
FORMULAS
NON
HABIT-
FORMING*
NO
HARMFUL
FILLERS
Ingredients
Proprietary Blend: Organic MCT Oil, CBN Extract (Cannabinol), and Shell (Gelatin, Glycerine, Water).
5 mg CBN per softgel capsule.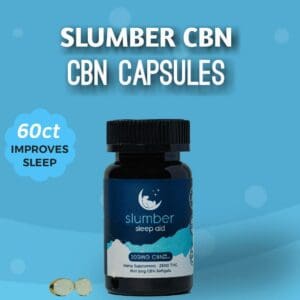 Suggested Use
CBN a sleep aid supplement can be used by adults take 1 serving (2 softgels) orally, 1 hour before bed each night. Simply take it with water and swallow. Individual results may vary.
Storage:
Store in a dry cool area, away from the light.
Medical Warning:
This product is not intended to diagnose, treat, prevent, or cure any disease. Individual results may vary. If you experience any negative effects, discontinue use immediately and tell your attending physician. Discontinue if you become pregnant. Keep out of the reach of children.
Product Options
300 mg total CBN (60 capsules) per Bottle
Based off an independent 3rd party study conducted with MoreBetter LTD.
Help them Stay Asleep
Agreed it helped the ability to stay asleep**
Easier to fall back alseep
Said it was easier to fall back asleep**
Better than other Sleep Aids
Of participants reported Slumber CBN performed better than any other sleep aid they have ever tried
CBN Capsules for Exceptional Sleep
Find your Slumber number of a full 8 hours of uninterrupted Zzz's by taking one or two CBN capsules around one hour before bed.
5 mg CBN
Pre-measured for accuracy
Organic MTC oil base
Related Articles:
Related Products: