13TH Floor THC Gummies 3 Per Pack
Discover one of the first patented formulas in the world for THC gummies, it's technology is in the delivery method. Offers 2 Times more absorption and delivers a full body experience like nothing you've ever experienced.
After trialing this for months I experienced first hand how effective and how fast it works. I tested with food and without food, the results are out of this world.
Don't be fooled by the small dose of 35mg per gummy because with just one you can literally be set for the day, combined with the CBD it makes for a pleasant experience from start to finish.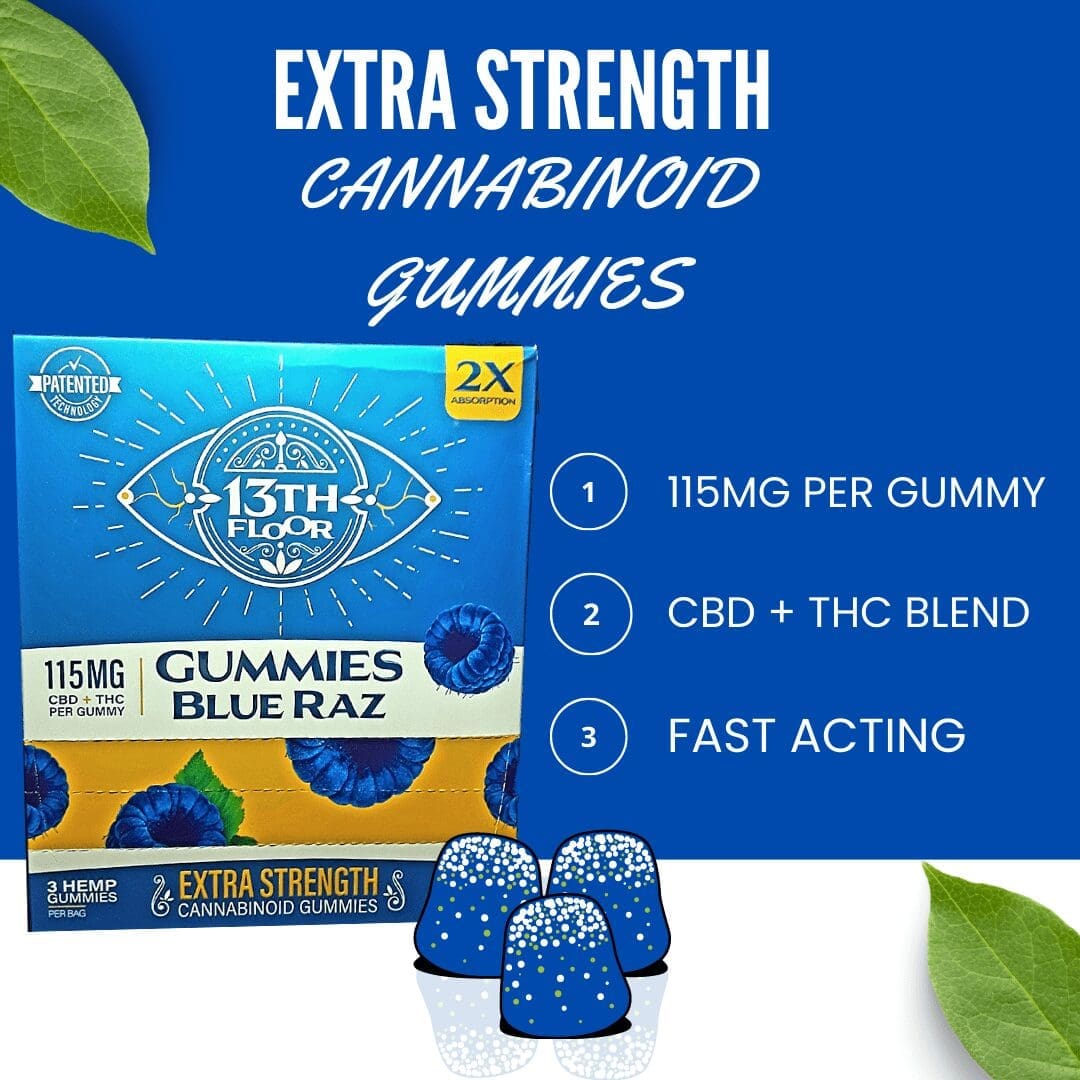 Supplement Facts:
100% Hemp Derived
Extra Strength With 2X More Absorption
3 Gummies Per Pack
35mg Per Gummy Totaling 115mg
Serving Size: 1 Gummy
As the cannabis market matures we see more and more variations of hemp derived THC enter the space, it all started with Delta 8 THC. The Farm Bill of 2018 opened the door for more research and development since then the list has expanded into numerous variations. Each THC variation offers a unique experience to the user making all of them quite enjoyable to try.
How To Use
For the best results if you are new to using cannabis be sure to have a light meal and have half a gummy, let it dissolve in your mouth like hard candy and allow several hours to observe the effects.
If your familiar with cannabis and edibles then you may try it in a way you feel most comfortable, would still recommend dissolving it like hard candy in your mouth and start with 1 gummy. I've noted it can take several hours for hemp derived THC to kick in and sometimes have observed the peak highs after 4 hours.
Related Products:

Are 13TH Floor Gummies Safe?
Yes, it is safe, extracted from high quality hemp from U.S. hemp farms across the United States it's patented formula is manufactured in a GMP certified facility.
How Many Should I Eat?
Depends on your experience level, if you are a veteran of THC edibles you can experiment with 2 or more but be warned these are fast acting and very potent. For new users I'd say start with half a gummy, each piece is 115mg which is no joke.
How Long Does It Take To Take Effect?
Based on long running trials between myself and a dozen of my test group most of us reported effects about 60 minutes in some report it under that, but overall after multiple test runs around an hour is what you can expect, which is far faster than most other hemp derived THC edibles.
Is This Type Of THC Edible Legal In My State?
It's always best to research what is allowed in your state before ordering, most hemp derived THC products are allowed in majority of the country but you should research first.