Cannabis Life Delta 8 Vapes Disposable Bar
WHAT IT IS:
A high-capacity flavored disposable pen with 3g of our Entourage Blend: Delta-8 THC, Delta-10 THC, CBD, CBN, and CBG. This blend of cannabinoids may offer the "entourage effect" in which multiple hemp compounds synergize for greater effect.  
(Note: This product may cause feelings of intoxication and impairment. Please use responsibly.)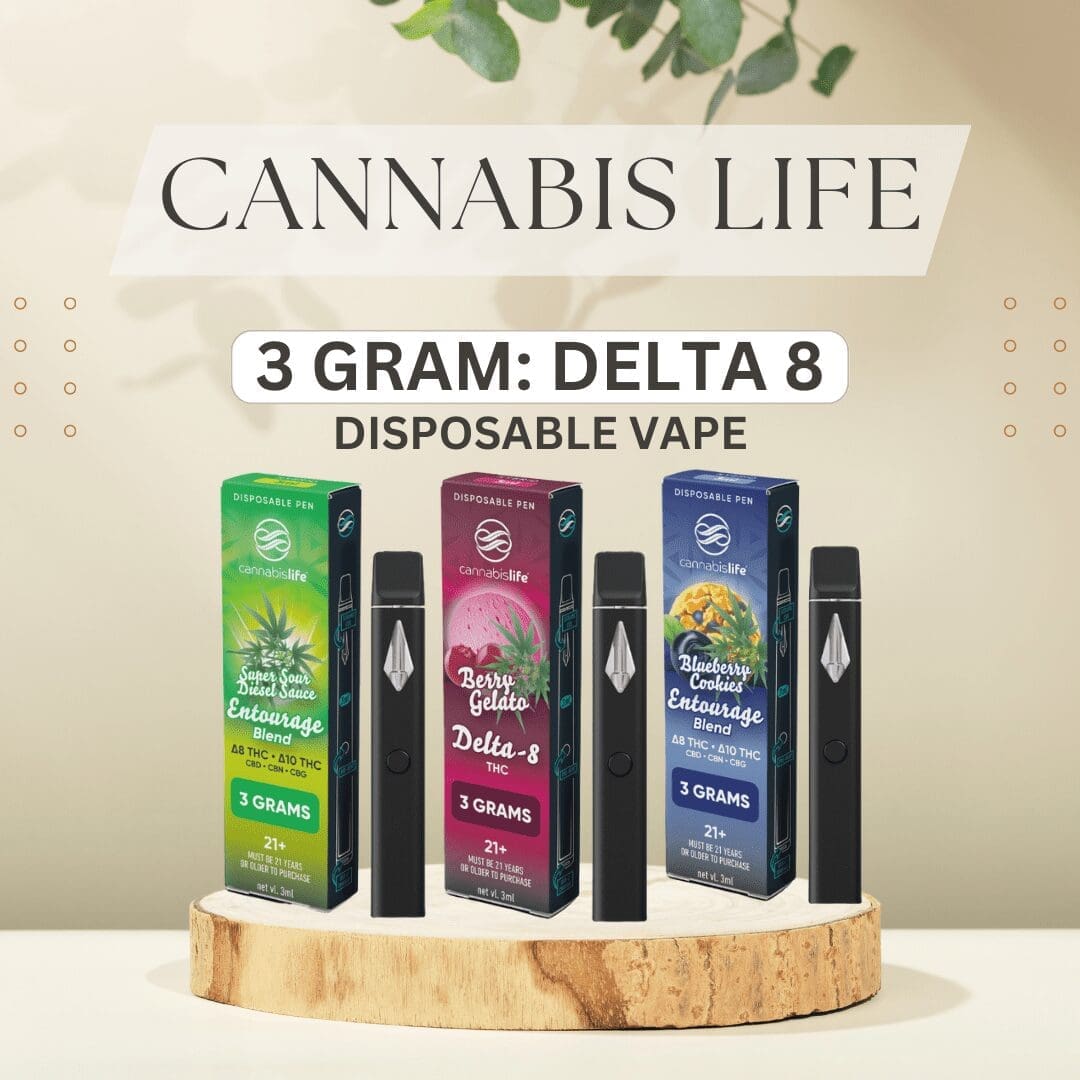 WHY IT'S SPECIAL
It features Cannabis Life's special Entourage Blend which combines Delta-8 THC, Delta-10 THC, CBD, CBN, and CBG.
You get a high-capacity 3 gram (3ml) disposable pen with pre-heat, ceramic coil and a USB-C port for recharging.
It has a delicious blueberry cookie flavor.
It has no fillers: No VG or PG (common additives)
It's made with a special blend of terpenes
Every batch is tested for quality by an independent lab
THE BASICS
USA-farmed
hemp
Vegan & Gluten free
Special terpene blend
Ingredients:
Hemp Derived Delta-10 (D10) Distillate, Hemp Derived Delta-8 (D8) Distillate, Terpenes, and Hemp Derived Cannabinol (CBN) Distillate.
Related Products:

Can I use Delta 8 if I am pregnant/nursing?
If you are pregnant or nursing, we advise you to consult your personal healthcare professionals before using any Delta 8 product.
Does Green Roads grow its own hemp?
We choose not to own farms, and instead have strong relationships with several excellent farms right here in the United States. This gives us the advantage of choosing the best hemp plants for our ingredients and rejecting any raw materials that do not meet our standards.
Will Delta 8 Get Me High?
Yes it can though it is milder than traditional cannabis it's best to take it slow and see how you feel. Typically 1 draw from these Delta 8 vapes are enough to keep you smiling for hours.
Can Delta 8 Show Up On A Drug Test?
Yes it can in volume and frequent use, it will show up positive.