What Is Delta 8 THC
Hemp Derived Delta 8 THC is a milder version of Delta 9 made for beginners who want to destress or to relax with a slight high and euphoria. Delta 8 THC comes in many forms such as flower that can be smoked, edibles that can be eaten or a variety of vapes. All of which are very potent and give a nice welcome to new comers.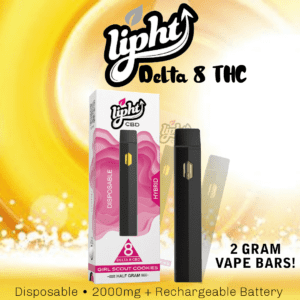 Product Info
Lipht Delta 8 THC Disposable Vapes are made for easy access and use any where any time. Don't let the size deceive you, the battery can last up to a day before requiring a recharge and the oil is packed with terpenes for exceptional flavor. It delivers smooth vapor with every pull.
Lipht Delta 8 Vapes are made from Hemp grown on US farms certified by the Federal Government, this is all due to the Farm Bill of 2018 opening the doors to more participation, research and development.
Whats Included
2 Grams (Quantity Per Vape)
Rechargeable Battery
Choose From Indica or Sativa
Variety Of Flavors (Subject To Change)
How To Use It
1 – 2 Puffs (Chill)
3 – 4 Puffs (Stoner Gaze)
5 – 6+ Puffs (Couch Lock)
NOTE: YOU MUST CHARGE THE BATTERY UNTIL FULL AFTER OPENING AND TESTING
WARNING: USING DELTA 8 THC MAY CAUSE PSYCHOACTIVE EFFECTS
Related Products: