Delta 8 THC Flower
Introducing our Delta 8 THC Flower Top Shelf – a botanical masterpiece that elevates your cannabis experience to unprecedented heights. Crafted with precision and care, this top-shelf offering promises a symphony of flavors and effects that will leave you craving more. Embrace the future of cannabinoids with our premium Delta 8 THC Flower.
Product Description:
Available In Indica Or Sativa
1g Prerolls, 3.5g and 7g Jars
Hemp Derived THC
Hemp Grown Here In The US
Lab Tested For Quality And Safety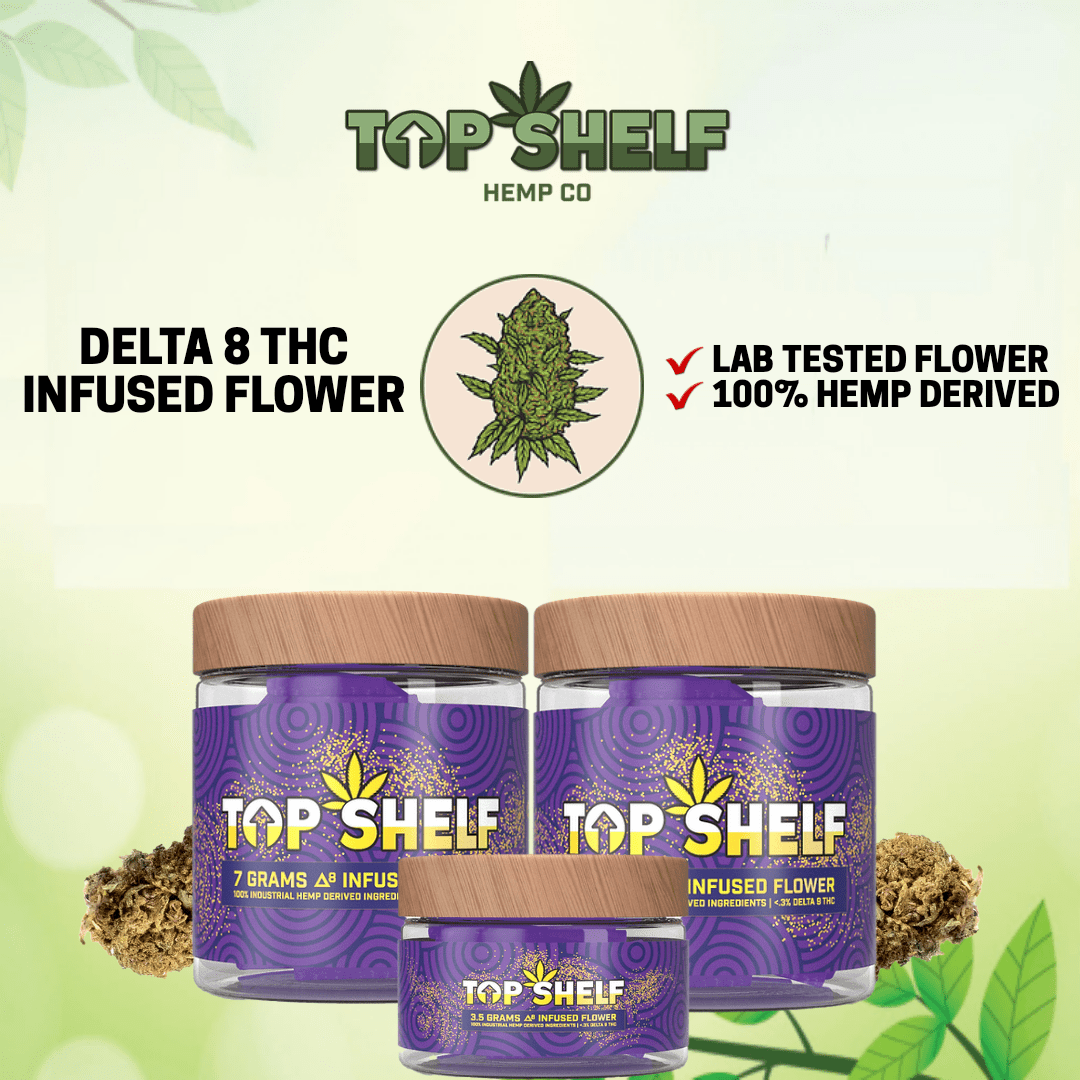 Experience Unparalleled Quality: Immerse yourself in a sensory journey with our Delta 8 THC Flower, cultivated under optimal conditions to ensure the highest quality. Our top-shelf selection boasts a rich terpene profile, delivering a full-bodied flavor that dances on your palate with each inhalation. You'll find no compromises here – only the pure essence of Delta 8 THC in its most refined form.
Why Choose Delta 8 THC? Delta 8 THC is the latest breakthrough in the world of cannabinoids, offering a unique and milder psychoactive experience compared to its Delta 9 counterpart. Dive into a world of balanced euphoria and relaxation without the overwhelming intensity. Elevate your senses and unwind with Delta 8 THC Flower – the epitome of modern cannabis enjoyment.
Pros:
Milder Psychoactive Effects: Enjoy the benefits of THC without the intensity, offering a smoother and more controlled experience.
Rich Terpene Profile: Our top-shelf flower is bursting with a diverse range of terpenes, enhancing the overall flavor and aroma.
Premium Cultivation: Grown under meticulous conditions, our Delta 8 THC Flower ensures a consistent and top-tier quality.
Cons:
Regulatory Variability: Delta 8 THC's legal status can vary, so it's crucial to be aware of the local regulations in your area.
Individual Sensitivity: As with any cannabinoid, individual reactions may vary, and some users may experience drowsiness or increased appetite.
Indulge in the pinnacle pot of cannabinoid sophistication with our Delta 8 THC Flower Top Shelf. Elevate your senses, savor the richness of terpenes, and embark on a journey where premium quality meets unparalleled enjoyment. Your botanical adventure awaits.
Related Products:

Is Delta 8 THC Flower legal?
The legal status of Delta 8 THC varies by location. While it is federally legal in some places, others may have specific regulations. Always check your local laws before purchasing.
How is Delta 8 THC different from Delta 9 THC?
Delta 8 THC offers a milder psychoactive experience compared to Delta 9 THC. Users often report a clearer-headed high with less anxiety.
Will Delta 8 THC Flower make me feel paranoid?
Delta 8 THC is known for providing a smoother experience with reduced anxiety and paranoia compared to Delta 9 THC. However, individual reactions vary, so start with a small amount to gauge your tolerance.