THC Delta 8 Edibles
A delight for any occasion. Made from 100% hemp extract these delta 8 THC gummies pack a punch with every bite. Made for those long days and long nights.
What is Delta 8 THC
Delta-8 THC (or Delta-8-tetrahydrocannabinol) is a naturally occurring chemical compound called a cannabinoid that's found in small traces in hemp and cannabis (marijuana) plants. Its popularity is on the rise, and you can find it everywhere from boutique weed dispensaries to convenience store shelves.
This isn't your average THC gummy, each piece contains a 50mg dose which is on average 3-4 times stronger than what you can find else where. So buckle up for a long trip if you decide to rock with Gas Delta 8 THC edibles. it can make your night great or awful depending on how you use it.
Would recommend half a gummy for a new user, for a reference this is how I'd break it down in milligrams.
New To Cannabis:
A Part Timer:
The Wake And Bake Kind Of Stoner:
Delta 8 THC has been growing in popularity due to it's lessened strength in comparison to Delta 9 THC found in Cannabis. This new form of THC helps to ease new users into discovering the true healing nature of cannabis without the intense paranoia feeling experienced by some with cannabis THC.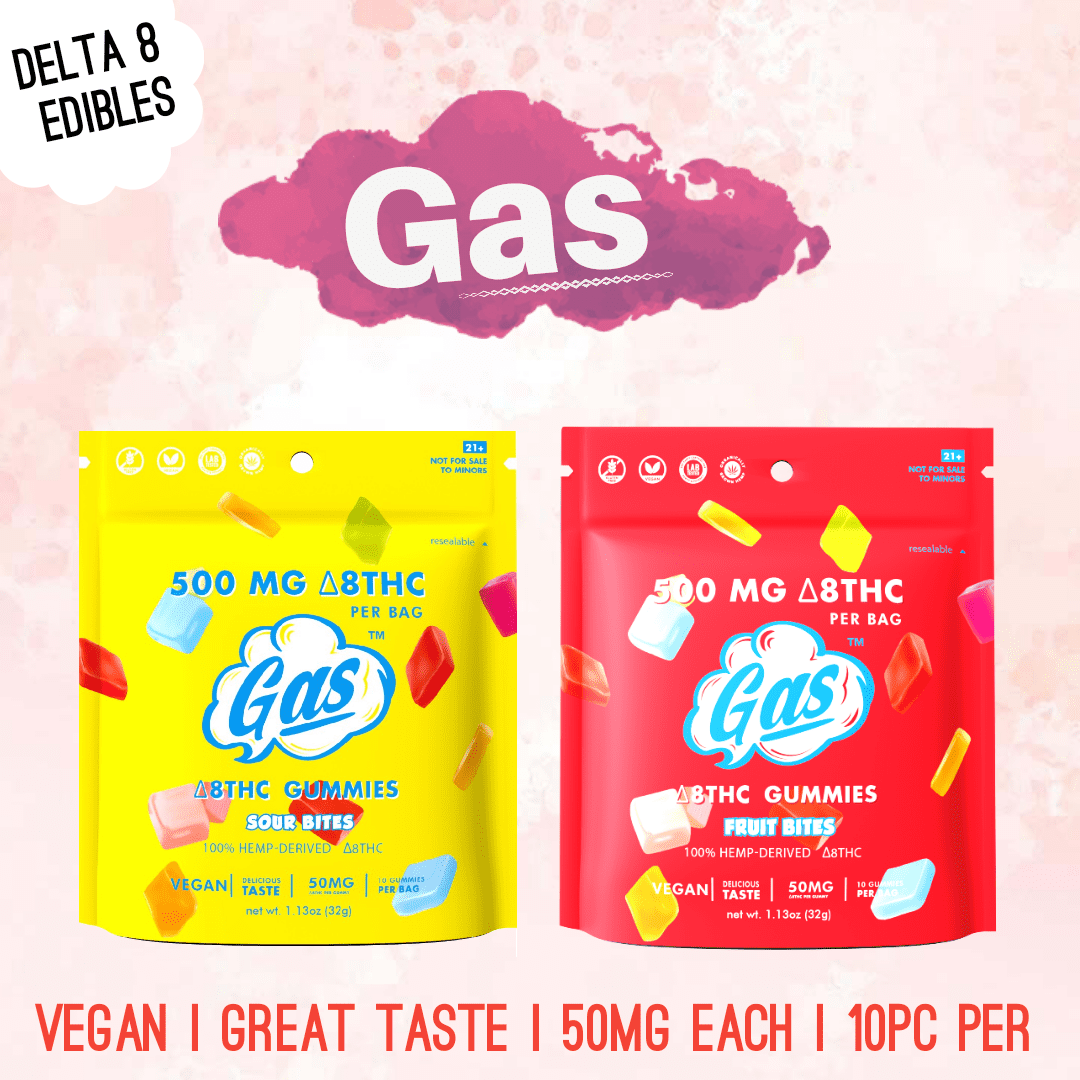 Supplement Facts:
100% Hemp Derived & Legal
10pc Per Pack = 500mg Total
50mg Delta 8 Per Gummy
Vegan
Resealable Pouch
Tastes Great
0.3% or Less Delta 9 THC
Available In Different Flavors
2 Options For Day Use
1 Option For Evening Use (Contains 5mg Melatonin Per Piece)
WARNING: This product can cause psychoactive effects
Related Products: