Tre House THCP Vape Cartridge
Love getting lit? Then you're about to fall in love! Our White Widow THC-P carts are packed with a full gram of top-shelf THC-P to provide you with a buzz unlike any other! When you want to indulge in the taste of classic cannabis and a powerful fade, you can't beat our White Widow THC-P cart.
A full gram of High Potency TCH-P with Live Resin Delta 8
Tastes like the popular White Widow Cannabis Strain
ZERO Additives
Keep your arms & legs inside the ride until it comes to a full stop
Warning: May cause psychotropic effect
Effects
If you're on the hunt for a truly premium THC-P cart, look no further! At TRĒ House, we're committed to bringing you the highest quality products imaginable. This potent vape cart offers 1 gram of THC-P coupled with an unbelievably tasty flavor profile. When you want to indulge in the taste of classic cannabis and a completely unique buzz, there's no better choice than our White Widow THC-P vape cart!
Benefits
Relaxation
Mood Elevation
Body Buzz
Head Buzz
Mildly Trippy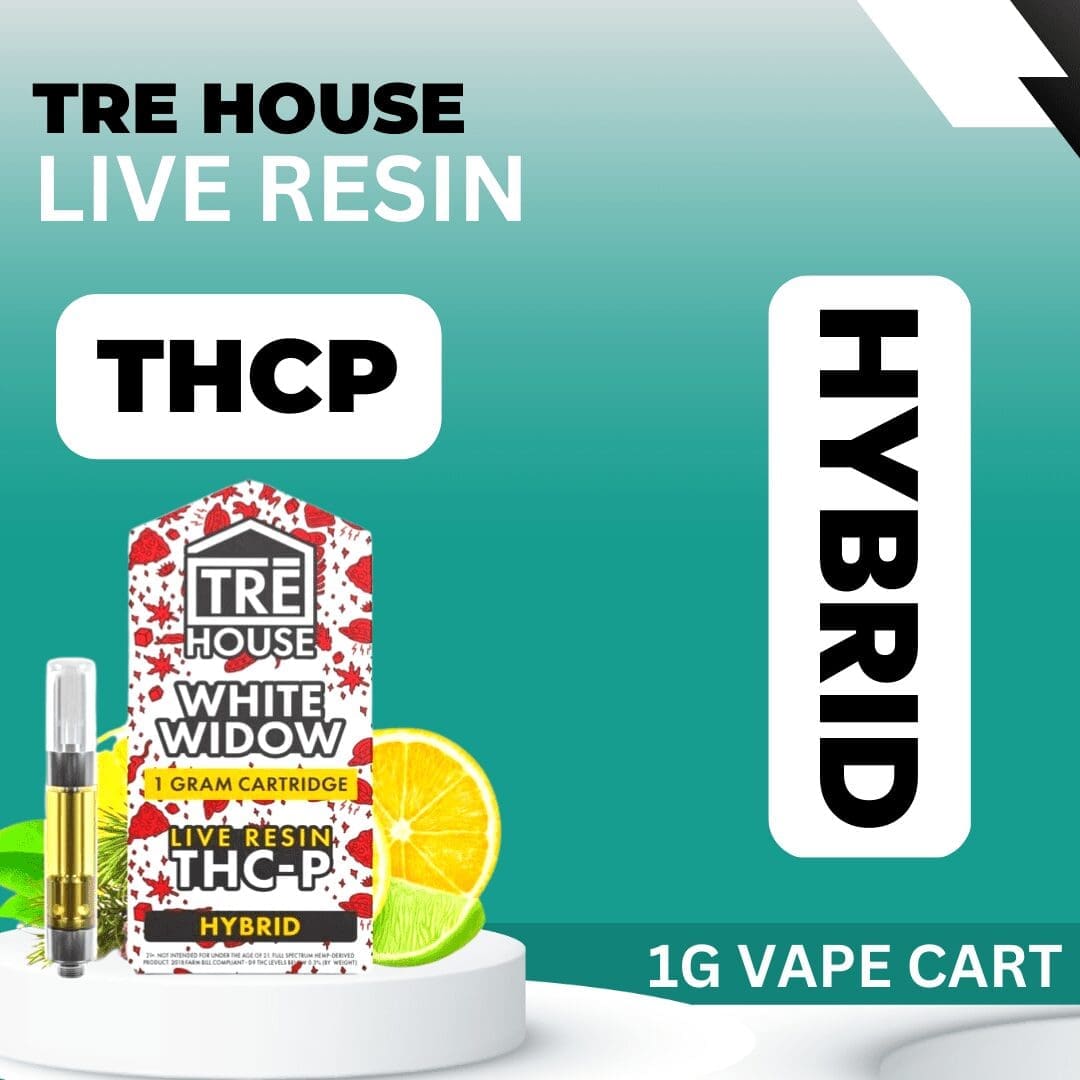 Directions for Best Results:
Our THC-P carts are incredibly easy to use. These powerful carts come pre-loaded with a full gram of premium THC-P, are compatible with any 510 threaded device, and are ready to go right out of the box! All you need to do is screw the cart onto your device, put it to your lips, and have a puff!
If you're new to THC-P, we highly recommend taking things slow , especially when combined with super powerful THC-P. Start by taking one puff, waiting 20-30 minutes to see how you feel, and then decide whether or not you want to get more baked. If you want to experience more powerful effects, just have another puff!
Perfect for you if:
You love the taste of classic cannabis strains and want to enjoy a completely unique experience with THC-P. This cart is discreet, easy to use, and super powerful.
Warning: May cause psychotropic effect. Not intended for use by those under the age of 21.
Do not drive or operate any heavy machinery when using any TRĒ House product!
THC-P affects everyone in a different way so it is essential that you consult your primary physician before using any TRĒ House product.
Do not use this product unless recommended by your doctor
Do not use more of this product than recommended by your doctor
Do not use this product if you are pregnant, nursing, or under 21 years of age
Do not use this product if you have any diagnosed or undiagnosed health conditions
Related Products:

What's in the carts?
Most other THC carts are typically made with a combination of cannabinoids, propylene glycol, and vegetable glycerin, but at TRĒ House we take things to the next level. TRĒ House THC carts are made with premium cannabinoid distillate, high-quality terpenes, and NO ADDITIONAL ADDITIVES like PG or VG. (brushes shoulder off/pops collar)  
Are legit THC carts safe?
Bootleg THC carts can be seriously sketchy. Fortunately, legit THC carts are generally considered safe. At TRE House, we take great pride in our vape carts and use only the best components, and the finest ingredients, and test them rigorously to ensure your safety.
Are THC carts worth it?
Um, hell yes, THC carts are worth it! You wouldn't be scrolling sound checking out our carts if you didn't already know that. But, we're happy to pat you on the back and reassure you that these babies are going to get you ripped. Now go get'em, tiger! Raaaaar
How to get THC carts on a cruise?
You probably shouldn't take THC carts on a cruise. If you're dying to do so, contact the company you intend to cruise with and ask if they allow THC carts. If they don't they're squares, but they're squares that can have you arrested! So, don't take the cruise so you can stay home and vape. Or don't vape so you can take the cruise. Whatever floats your boat.
Can you bring THC carts on a plane?
Yes, you can typically bring THC carts on the plane if they are legal at your intended destination. That being said, we aren't responsible for you ending up in the pokey, so call the airline and check local laws before you show up at the airport with a duffel bag full of THC carts.