Devils Kratom Blend
Capsules one of the leading brands of high quality kratom blends, responsibly sourced and lab tested for quality and safety. Devil's kratom has been around for nearly a decade, it's potent proprietary blend has tens of thousands of satisfied users going back many years. Each strain is specially blended and thoughtfully formulated to bring out the best effects whether your looking for energy, pain relief, stress relief or all of the above.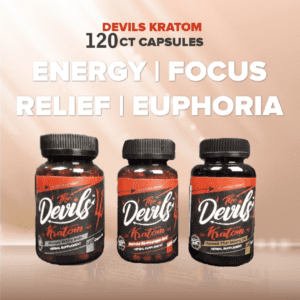 Devils Kratom Is Available In Capsules
Strains Available Are Below
Red Vein
Green Vein
Maeng Da
White Vein
Responsibly Sourced, Handled, Processed And Batch Tested Here In The US.
Helpful Articles:

What Strain Kratom Is Best For Pain
What Strain Kratom Is Best For Pain
Will It Help Me With Mood Or Energy?
Most certainly it can, it's soothing properties are usually from higher doses, but at lower doses most experience the mood enhancing effects as well as the focus or energy desired.
Can Kratom Help With Opioid Addiction
Millions have used it successfully for that purpose, it's naturally occurring alkaloids stimulate the same part of the brain. You want to develop a plan to use it responsibly to aid in your goal. You don't want to replace one for the other full time, unless the circumstance requires it.
How Much Do I Take?
This is highly dependent on your situation, everyone's story is different. If you are exploring kratom for the first time and do not use any other substances then typically most people have found success with 2 to 4 capsules.
Does It Get Me High?
This is a bit more anecdotal, some say yes while others say no. In small amounts it can be compared to any other mood enhancer such as coffee. In higher amounts it becomes more sedative and perhaps that can be considered being high for some people.