Leaf Organix Kratom Capsules Dietary Supplement
Product Details:
Lab Tested (Available Upon Request Allow 24-48hrs)
2-3X Higher Alkaloid Content (Very Potent)
Bulk Powder Packages
Finely Grinded (No Stems)
Responsibly Grown & Harvested
Available In The Following Quantities
60ct Capsule Package
100ct Capsule Package
200ct Capsule Package
Leaf Organix kratom capsules are responsibly sourced and harvested with great care bringing you the freshest kratom every time. Kratom a southeast Asian plant contains a number of different compounds known to help people who suffer from pain, anxiety, stress, opioid withdrawals or abuse and more as millions of people are now speaking up about their positive experiences using kratom leaf in capsule form or powder form.
More About Kratom
Kratom has 25 different alkaloids or active/nonactive compounds that interact with the human brain, the main 2 are Mitragyna Speciosa and Hydraseven-Mitragyna. In 2019 a major multi national pharmaceutical conglomerate patented a formula with Hydraseven-Mitragyna compounds. Kratom has pain-relieving effects like opioid drugs but is a plant not a synthetic and over the years millions have reported other positive use cases other than pain management and relief aid.
Benefits And Uses
Aids In Stress
Helps With Anxiety
Some Use it For Pain Relief
Long Lasting Energy or Focus
Mood Enhancing and Euphoric
Checkout more from Leaf Organix
Learn more about kratom!
Leaf Organix Kratom Powders are available in different quantities and are guaranteed to be the freshest kratom you have ever tried.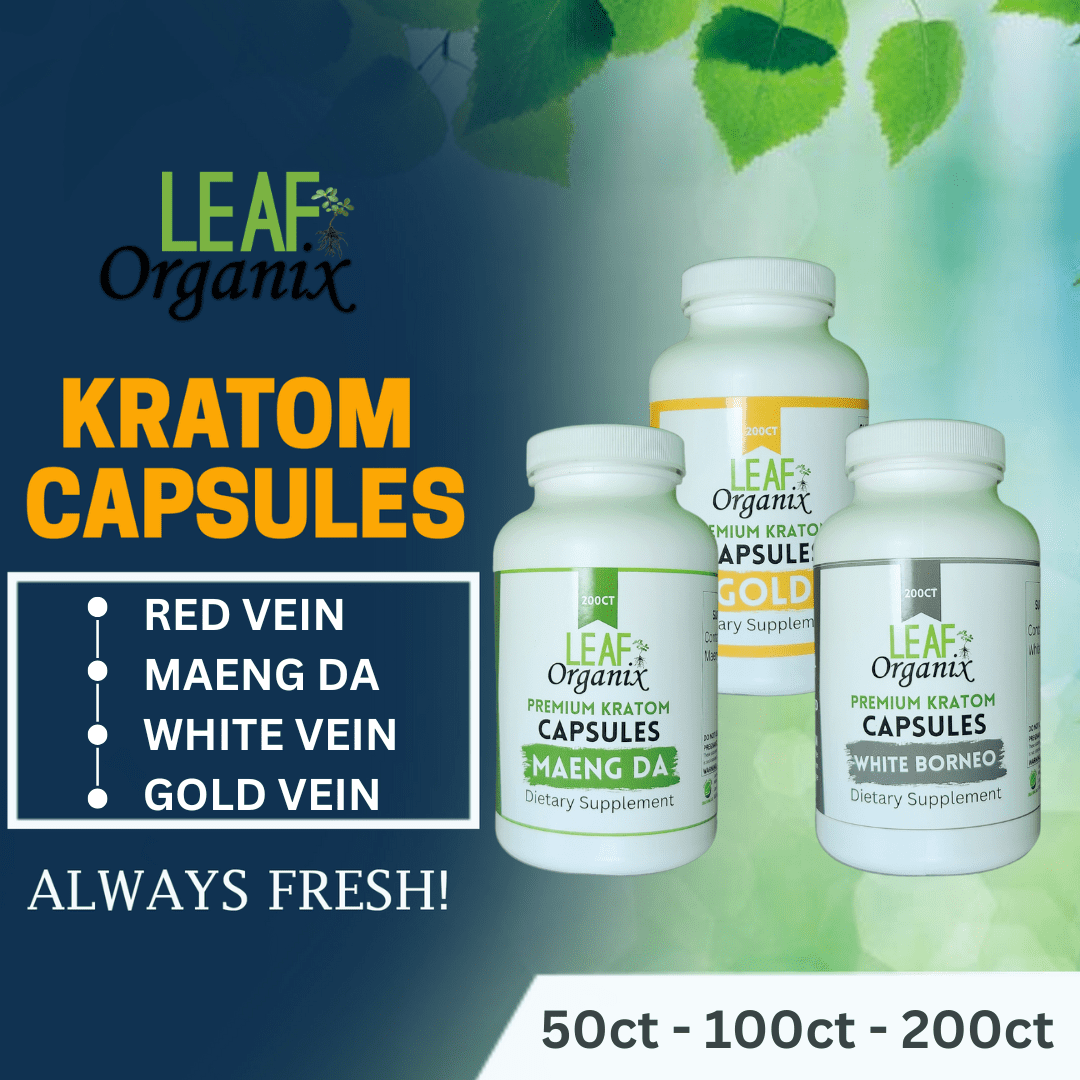 Related Products:

What Strain Is Best For Pain?
Though it does vary from person to person, All strains of kratom have some relieving properties. Typically 9 out of 10 people will use Red Vein or Maeng Da with higher percentages of success.
Will It Help Me With Mood Or Energy?
Most certainly it can, it's soothing properties are usually from higher doses, but at lower doses most experience the mood enhancing effects as well as the focus or energy desired.
Can It Help With Opioid Addiction?
Millions have used it successfully for that purpose, it's naturally occurring alkaloids stimulate the same part of the brain. You want to develop a plan to use it responsibly to aid in your goal. You don't want to replace one for the other full time, unless the circumstance requires it.
How Much Do I Take?
This is highly dependent on your situation, everyone's story is different. If you are exploring kratom for the first time and do not use any other substances then typically most people have found success with 2 to 4 capsules.
Does It Get Me High?
This is a bit more anecdotal, some say yes while others say no. In small amounts it can be compared to any other mood enhancer such as coffee. In higher amounts it becomes more sedative and perhaps that can be considered being high for some people.