PAX 2 Cannabis Flower Vape
is stunning and features a streamlined design with up to 30% higher battery capacity, a deeper oven chamber that heats evenly for optimal vapor, and it is 25% smaller and 10% lighter than the original PAX 1 vaporizer.
PAX 2 has four temperature settings with lip-sensing, motion-sensing, and auto-cooling technologies that intelligently self-optimize power and temperature during use. With a one-button operation and minimal maintenance required, this vape's interface is simple and efficient.
More Info
It also features a magnetic USB charging dock, a redesigned non-popup top, and a more efficient battery that heats up the PAX 2 in less than a minute. Looking for some vaportainment? Also includes Party Mode to enhance your social experience.
Remove the magnetic oven lid and fill your finely ground aromatic blends into
Smaller. Smarter. Sleeker.
For Aromatic Blends
Pocket Friendly
4 Optimized Temperature Presets
Motion Sensor With Automatic Shutoff
45 sec heat up time
6-8 sessions per charge
Stainless Steel Filling Chamber
Rechargeable Lithium-ion Battery With Dock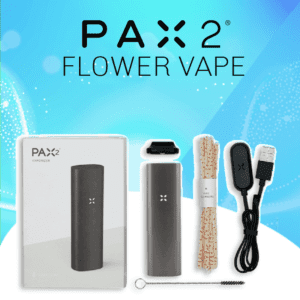 WHAT'S IN THE BOX
PAX 2 Vaporizer
2x Interchangeable Top Pieces (1 Flat, 1 Raised)
Magnetic Oven Lid
Magnetic USB Charger
10x Cleaner Tools
*Includes 2-Year Warranty Protection
Related Products: