PHORIA Max Energy And Mood Capsules
Unleash Your Inner Energy Dynamo with Phoria Max Energy And Mood Capsules!
Are you ready to revitalize your life and supercharge your mood? Look no further than Phoria Max Energy And Mood Capsules! Packed with a potent blend of vitamins and amino acids, this dynamic formula will leave you feeling on top of the world. Let's dive into the exciting world of these incredible ingredients.
This unique blend combines some of the best ingredients to uplift and promote better mood, energy and focus all day. Great for anyone looking for a pick me up to push through a tough day. Whether you take it for mood or you take it for energy you'll be pleasantly surprised. You can rely on the Phoria Max formula to get you there every time.
Product Details:
Herbal Supplement Blend
All Natural Ingredients
Serving Size: 2 Capsules – 1000mg
60ct Bottle Is 30 Servings Per Container
120ct Bottle Is 60 Servings Per Container
Proprietary Blended Ingredients: 1000mg Per Serving
Vitamin C
Vitamin B6
Vitamin B12
L-Tyrosine
L-Phenylalanine
Levodopa
5HTP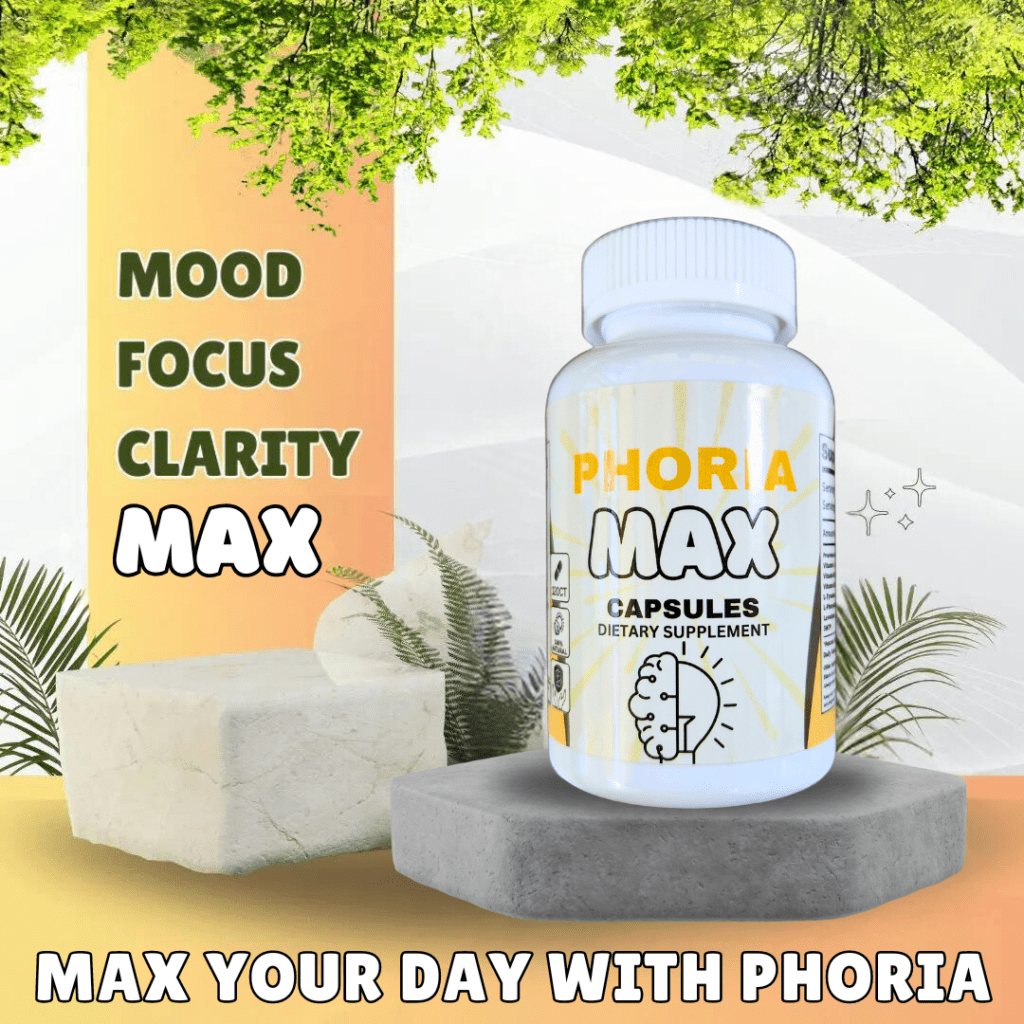 Ingredients That Make the Magic Happen:
Vitamin C: Bursting with antioxidant power, Vitamin C helps your body fend off harmful free radicals. It's your trusty shield against oxidative stress, leaving you feeling fresher and more vibrant.
Vitamin B6: The essential "energy vitamin," B6 plays a key role in converting food into fuel. With it in your corner, you'll experience a steady, sustained energy boost, allowing you to tackle your day with gusto.
Vitamin B12: The ultimate fatigue-fighter, B12 is a natural energy source. It fuels your body, promoting a sense of vigor and alertness, keeping those groggy moments at bay.
L-Tyrosine: This amino acid is your secret weapon against stress. It supports the production of dopamine, the "feel-good" neurotransmitter, leading to enhanced mood and mental clarity. Say goodbye to stress-induced sluggishness!
L-Phenylalanine: Another essential amino acid that helps your body produce crucial neurotransmitters, L-Phenylalanine ensures a balanced and uplifted mood. You'll be radiating positivity!
Levodopa: Extracted from natural sources, Levodopa boosts the production of dopamine and norepinephrine, creating a sense of enthusiasm and sharp focus.
5HTP: This natural mood enhancer promotes the production of serotonin, the brain's "happiness hormone." Say farewell to gloomy days and embrace the sunnier side of life!
Phoria Max Energy is perfect For Those looking for a natural boost in energy production without the crash or burnout of the usual coffee or energy drink.
Natural Brain Boosting Capsules
Our unique blend of herbal ingredients works to improve mental clarity and cognitive function.
Say goodbye to brain fog and sluggishness with Phoria Max Energy And Mood.
Our formula provides a natural and sustainable energy boost to help you stay focused while improving mood so you can be productive.
Experience Calm Alertness
Unlike caffeine and other stimulants, Phoria Max Energy provides a sense of calm alertness
Our herbal blend helps reduce stress and anxiety, allowing you to stay focused and alert without feeling jittery
With Phoria Max Energy, you'll have the energy and focus to tackle even the most challenging tasks with ease
Boost Your Mood and Well-Being
Our herbal blend also helps improve mood and overall well-being
Phoria Max helps reduce feelings of fatigue and promotes a positive mood
With Phoria Max, you'll feel more energized and focused, helping you tackle your day with confidence
Pros:
All-Natural: Phoria Max Energy And Mood Capsules are crafted with natural ingredients, free from harmful additives and fillers.
Boosted Mood: Experience a significant improvement in your mood and mental well-being, ensuring you radiate positivity.
Sustained Energy: The combination of B vitamins and amino acids provides a steady stream of energy, helping you stay active throughout the day.
Enhanced Focus: Bid farewell to distractions and embrace a sharper, more productive state of mind.
Cons:
Possible Sensitivity: As with any supplement, some individuals may experience sensitivity to the ingredients. It's advisable to consult with a healthcare professional before starting any new dietary regimen.
Not a Quick Fix: While Phoria Max Energy And Mood Capsules provide sustained benefits, they may take some time to show results, requiring consistent use.
Phoria Max Energy And Mood Capsules are your key to unlocking a world of boundless energy and positivity. With natural ingredients that are backed by science, you can look forward to a happier, more energetic you. It's time to embrace life with open arms. Elevate your mood, ignite your energy, and seize every day with Phoria Max Energy And Mood Capsules!
Related Products:

How long does it take to see results?
Results may vary from person to person, but many users report feeling increased energy and improved mood within a few days of regular use.
Are there any side effects to watch out for?
Phoria Max Energy And Mood Capsules are generally well-tolerated. However, some users may experience mild side effects such as nausea or gastrointestinal discomfort. If you experience any adverse reactions, discontinue use and consult a healthcare professional.
Can I take these capsules with other medications or supplements?
It's always advisable to consult with a healthcare provider before adding a new supplement to your regimen, especially if you are on medications or taking other dietary supplements.
Is it safe for long-term use?
Phoria Max Energy And Mood Capsules are designed for daily use, and many individuals safely incorporate them into their long-term wellness routine. However, it's still recommended to consult with a healthcare professional for personalized guidance.