Kanna Capsules Mood Supplements 60ct or 120ct
Kanna supplements are a natural and effective way to improve your mental and emotional well-being. Made from the finest plant extracts, these supplements offer a range of benefits that can enhance your overall health and happiness.
One of the main advantages of taking Kanna supplements is their ability to help manage stress and anxiety. If you struggle with feelings of overwhelm or find it difficult to switch off after a long day, Kanna can help you to relax and unwind, allowing you to feel calmer and more centered.
Product Details:
Pure Kanna Capsules 500mg Each
20:1 Extract Ratio
Available In 60ct & 120ct Bottles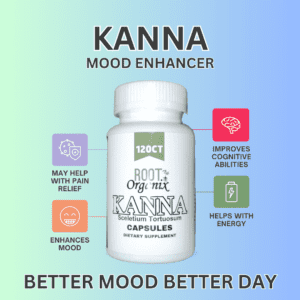 Benefits
In addition to reducing stress, Kanna supplements can also improve your mood and increase your energy levels. By stimulating the production of serotonin in the brain, these supplements can promote feelings of positivity and contentment, helping you to feel more motivated and focused throughout the day.
Another key benefit of Kanna supplements is their ability to support healthy cognitive function. By improving blood flow to the brain and enhancing the uptake of key nutrients, these supplements can help to boost memory, concentration, and mental clarity, making it easier for you to stay sharp and focused no matter what life throws your way.
The Science Behind Kanna Capsules Mood Supplement
Before we delve into the remarkable benefits of Kanna Capsules, it's essential to understand the science that underpins this innovative mood-enhancing supplement. Kanna, scientifically known as Sceletium tortuosum, is a succulent plant native to South Africa that has been used for centuries by indigenous communities for its mood-altering properties. The key to Kanna's efficacy lies in its active compounds, including mesembrine and mesembrenone, which act on the brain's serotonin receptors, the neurotransmitter responsible for regulating mood.
The mesembrine in Kanna has been shown to inhibit the reuptake of serotonin, allowing for increased serotonin levels in the brain. This can lead to improved mood, reduced anxiety, and an overall sense of well-being. Furthermore, mesembrenone has been found to interact with other neurotransmitters, such as dopamine and norepinephrine, contributing to its mood-enhancing effects.
Kanna Capsules Mood Supplement harnesses the power of these natural compounds in a convenient, easy-to-take form. Each capsule is carefully formulated to deliver an optimal dose of Kanna extract, ensuring you experience the full range of mood-boosting benefits without any hassle.
Pros
Natural Mood Enhancement:

Kanna Capsules provide a natural and holistic approach to improving your mood and emotional well-being. The active compounds in Kanna work with your body's own chemistry to promote feelings of happiness and contentment.

Reduces Stress and Anxiety:

If you often find yourself overwhelmed by stress and anxiety, Kanna Capsules can be a game-changer. By increasing serotonin levels and modulating other neurotransmitters, Kanna can help you better cope with life's stressors.

Enhances Cognitive Function:

Improved mood isn't the only benefit of Kanna Capsules. Users have reported increased focus and mental clarity, making it an excellent supplement for those seeking enhanced cognitive function.

Convenient and Easy to Use:

These capsules fit seamlessly into your daily routine. No need for brewing teas or mixing powders—simply take a capsule with water, and you're good to go.

Non-Addictive:

Unlike some mood-enhancing substances, Kanna Capsules are non-addictive. You can enjoy the benefits without worrying about dependence or withdrawal symptoms.

Minimal Side Effects:

When used as directed, Kanna Capsules have minimal side effects, making them a safe and well-tolerated option for improving your mood.

Well-Researched Ingredients:

The active compounds in Kanna have been extensively studied for their mood-enhancing properties, giving you confidence in the science behind this supplement.

Suitable for Vegetarians and Vegans:

Kanna Capsules are made from plant-based ingredients, making them suitable for vegetarians and vegans who want to support their mood naturally.
Cons
Individual Variability:

While many users experience significant mood improvements with Kanna Capsules, individual responses may vary. It may take some time to find the right dosage that works best for you.

Not Suitable for Everyone:

Kanna Capsules are generally safe for most people, but they may not be suitable for individuals with certain medical conditions or those taking specific medications. It's crucial to consult with a healthcare professional before starting any new supplement.

Availability:

Depending on your location, Kanna Capsules may not be readily available in local stores. However, they can be easily purchased online through reputable retailers.

Cost:

Some users may find the cost of Kanna Capsules to be on the higher side compared to other mood-enhancing supplements. However, the quality and effectiveness of the product often justify the price.

Time to Effect:

While some individuals may experience immediate mood improvement with Kanna Capsules, others may need to use the supplement consistently for a few weeks to fully realize its benefits.
Discover Kanna Capsules Now
So, whether you're looking to manage stress, improve your mood, or enhance your cognitive abilities, Kanna supplements are the perfect solution. Order yours today and experience the many benefits of this natural and effective supplement for yourself. Don't let stress and anxiety hold you back any longer – take control of your health and happiness with Kanna supplements.
Related Products:

What are Kanna supplements made of?
Kanna supplements are made from natural plant extracts.
What are the benefits of taking Kanna supplements?
Kanna supplements offer a range of benefits, including managing stress and anxiety, improving mood and energy levels, and supporting healthy cognitive function.
How do Kanna supplements help with stress and anxiety?
Kanna supplements help manage stress and anxiety by promoting relaxation and calmness.
How do Kanna supplements improve cognitive function?
Kanna supplements improve cognitive function by improving blood flow to the brain and enhancing the uptake of key nutrients, resulting in better memory, concentration, and mental clarity.