Kratava Tabs Kratom And Kava Blend
The Root Organix Kratom and Kava blend called Kratava Tabs is the perfect choice for anyone looking for a natural way to relax and unwind. Made from high-quality Kratom and Kava, this blend offers a unique and effective way to promote calmness and tranquility. Our blend is designed to help you reduce stress, anxiety, and tension, and promote a sense of well-being. With the combination of Kratom and Kava, you can experience a more relaxed state of mind and body.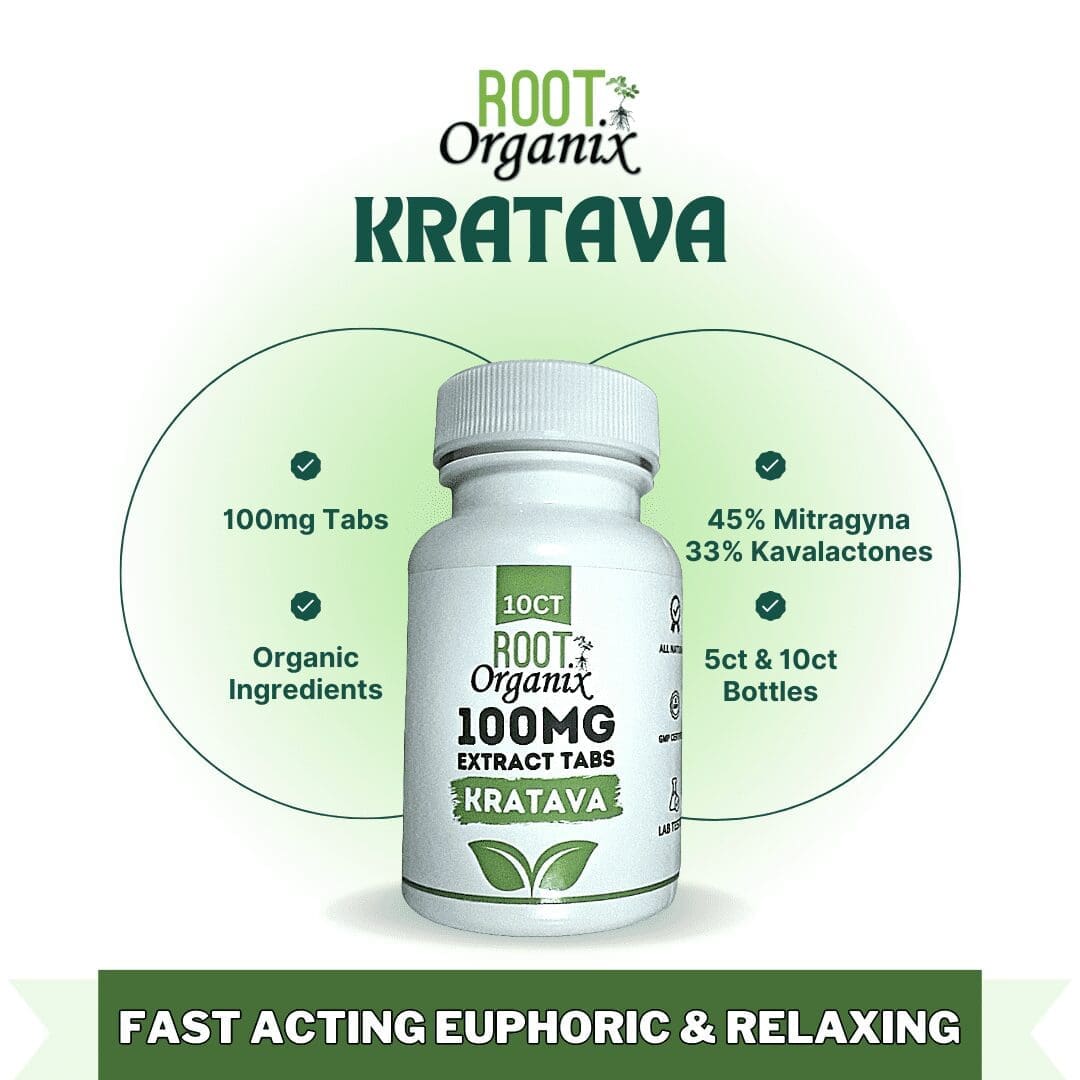 Product Details:
45% Mitragyna Extract
33% Kavalactones
100mg Tabs Each
Fast Acting
5ct & 10ct Bottle Sizes
This Kratom and Kava blend is more than just a relaxation aid. This powerful blend is made to boost energy and enhance mood but then slowly transitions over a couple hours to soothing relaxed effects. Kratom is known for its pain-relieving properties as well as it's energy properties, while Kava is known for its calming effects. Together, these two herbs work in synergy to provide a holistic approach to health and wellness. Whether you're looking to reduce stress, improve sleep quality, or promote better mood and energy levels, Kratava Kratom and Kava blend has got you covered.
Related Products:

What are the recommended dosages for a kratom and kava blend?
Depends on experience levels, for beginners half a tab is a good place to start. While for more experienced users they can do 1 – 2 tabs.
How long does it take for the effects of a kratom and kava blend to be felt?
For some it's within minutes and for others up to 30 mins but it does depend on the person quite a bit including whether or not you have eaten or not.
Is a kratom and kava blend safe to consume?
Yes they are, these tabs are pressed with high-tech machinery at a GMP Certified facility, they meet and exceed supplement standards.
Are there any legal concerns around the use of a kratom and kava blend?
Some states have banned kratom but most allow kava, it's best to do your own research before purchasing any kratom, kratom blended products.