Inkratable Kratom Extract Gummies
sourced from the highest quality kratom leaves and produced with phenomenal results delivering fast relief from a simple yet effective method, kratom extracts are for experienced users only and should be used responsibly.
Inkratable gummies were made to ease the struggle of taking capsules or to ease the burden of the bitter taste of kratom powder with these kratom extract edibles you can get what you need fast and enjoy the flavor too.
What Is Kratom
Kratom a southeast Asian plant contains a number of different compounds known to help people who suffer from pain, anxiety, stress, opioid withdrawals or abuse and more as millions of people are now speaking up about their positive experiences using kratom leaf in capsule form or powder form.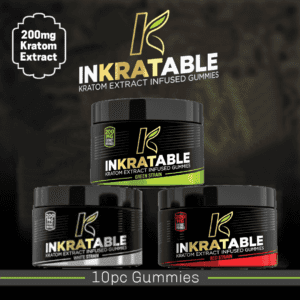 Kratom has 25 different alkaloids or active/nonactive compounds that interact with the human brain, the main 2 are Mitragyna Speciosa and Hydraseven-Mitragyna. In 2019 a major multi national pharmaceutical conglomerate patented a formula with Hydraseven-Mitragyna compounds. Kratom has pain-relieving effects like opioid drugs but is a plant not a synthetic and over the years millions have reported other positive use cases other than pain management and relief aid.
Inkratable Gummies Details:
10pc Gummies Per Container
20mg Per Gummy = 200mg Total
GMP Manufactured
Lab Tested For Quality Before And After
Related Products: