Snapz CBD Cigarettes Flavored Pre-Rolls
Are you searching for a smoke break that not only offers a moment of tranquility but also supports your overall well-being? Look no further than Snapz CBD Cigarettes, the perfect blend of relaxation and wellness in every puff.
Our premium CBD cigarettes are designed to provide you with a calming experience without the high, offering the ultimate solution for those seeking a natural way to unwind and find balance.
Product Details:
All Natural Hemp Derived CBD
10 Pre-rolls Per Pack
Dual Flavor Options
Non-Psychoactive
Contains Less Than 0.3% THC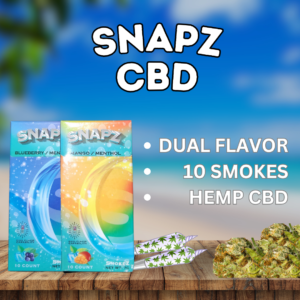 Why Choose Snapz CBD Cigarettes?
Pros:
Pure CBD: Snaps CBD Cigarettes are meticulously crafted with high-quality, organic hemp-derived CBD. We guarantee purity and potency, ensuring a consistent and reliable dose of CBD in every cigarette.
Non-Psychoactive: Unlike THC, CBD does not induce a high. This means you can enjoy the soothing effects of CBD without any impairment, making it perfect for all-day relaxation.
Convenient: Our pre-rolled CBD cigarettes are ready to use, eliminating the hassle of rolling your own. Simply snap and enjoy, anytime, anywhere.
Natural Ingredients: Snapz CBD Cigarettes contain only natural ingredients, free from harmful chemicals or additives commonly found in traditional cigarettes.
Stress Relief: CBD has been shown to reduce stress and anxiety, providing a sense of calm and relaxation, making it an excellent option for those looking to unwind after a long day.
Quick Onset: Inhalation is one of the fastest ways to experience the benefits of CBD. With Snaps CBD Cigarettes, you'll feel the effects within minutes, allowing you to regain your focus and composure swiftly.
Cons:
Smoking: It's important to note that smoking, even in the form of CBD cigarettes, can have health risks associated with it. While our product is free from harmful additives, inhaling any substance may have potential health consequences.
Discover the ultimate relaxation with Snapz CBD Cigarettes – a natural, non-psychoactive way to unwind and find balance in your daily life.
In conclusion, Snapz CBD Cigarettes offer a natural and convenient way to relax and unwind, without the psychoactive effects associated with traditional smoking. With precision blending, lab testing, and a variety of flavors, our product is designed to provide you with a reliable and enjoyable CBD experience.
While it's essential to be mindful of potential health risks associated with smoking, Snapz CBD Cigarettes offer a safer alternative for those seeking relaxation and stress relief. Try them today and discover the soothing power of CBD without the high.
Related Products:

Are Snapz CBD Cigarettes legal?
Yes, Snaps CBD Cigarettes are legal in the United States and many other countries. Our product contains hemp-derived CBD, which was legalized by the 2018 Farm Bill. Please check your local laws and regulations regarding CBD products.
Will Snapz CBD Cigarettes get me high?
No, Snaps CBD Cigarettes are non-psychoactive. They contain CBD, which is not intoxicating. You can enjoy the calming effects of CBD without any impairment.
How do I use Snapz CBD Cigarettes?
Using Snaps CBD Cigarettes is easy. Simply remove one from the pack, light it, and inhale as you would with a regular cigarette. Exhale and enjoy the relaxation.
How long does it take to feel the effects of Snapz CBD Cigarettes?
The effects of Snaps CBD Cigarettes are typically felt within a few minutes of inhaling. However, individual experiences may vary.
Can I use Snapz CBD Cigarettes to quit smoking?
While Snaps CBD Cigarettes do not contain nicotine, they may serve as a suitable alternative for those looking to quit smoking. Consult with a healthcare professional for a tailored smoking cessation plan.
Are there any side effects of using Snapz CBD Cigarettes?
CBD is generally well-tolerated, with minimal side effects such as dry mouth or dizziness reported in some cases. It's important to start with a lower dose and monitor how your body reacts.
How many cigarettes are in a pack of Snapz CBD Cigarettes?
Each pack contains 10 pre-rolled CBD cigarettes.
How does the dual flavor work?
The filters of Snapz CBD contain a flavored pod, if you don't squeeze it then you get the all natural flavor of hemp flower. If you do squeeze the filter it'll release the flavor within that pod.