Top Shelf Delta 8 THC Gummies
WARNING: MAY CAUSE PSYCHOTROPIC EFFECT. NOT INTENDED FOR UNDER THE AGE OF 21. FULL SPECTRUM HEMP-DERIVED PRODUCT. 2018 FARM BILL COMPLIANT WITH DELTA 9 THC LEVELS BELOW 0.3% BY DRY WEIGHT
Our 20mg Top Shelf Delta 8 THC Gummies are Craft Edibles and made by hand to ensure the highest quality and most consistent effects with each morsel. They come in Grape, Green Apple, Mango, Strawberry Banana, and Wild Berry flavors. Available in 200mg and 500mg sizes.
The 1000mg Delta 8 THC Craft Edibles are made by hand to ensure the highest quality and most consistent effects with each morsel. 25 per jar, each morsel contains 40 MG of Delta 8. 3 delicious flavors to choose from, Orange Crush, Blue Paradise, and Cherry Limeade.
How is it Legal?
According to the 2018 Farm Bill, all hemp-derived products are legally allowed to contain 0.3% Delta 9 THC by dry. Our Delta-8 THC gummies are bigger than most (weighing over 5 grams each). We use the dry weight of the gummy to be able to deliver 20mg of legal, hemp-derived Delta 8 THC per piece.
Our Farm
Kind Remedies (the parent company to Top Shelf Hemp™ number one goal is sustainably grown industrial hemp. When it comes to farming and working with Mother Nature, we believe that the use of pesticides, tilling, excessive plastic, and poor curing practices are the poison of this Industry.
This is why our own farm, and partner farms are sourced carefully to use organic, virgin land. We use no till practices and believe the micro organisms in the soil are the best thing for our plants. Tilling the land simply kills off these micro organisms. We use proprietary compost teas to feed our plants and soil to keep them growing throughout the season.
Pesticides can be great at keeping the bugs away, but are terrible to consume, and just as bad for the environment. We believe in the power of hemp outside of the cannabinoids, which is why we will always put the planet over profits.
Our Process
After our product is grown organically, (see "Our Farms"), we bring it into the production warehouse for drying and curing. It is dried for 8-14 days and then put into 45 gallon sterlite sealable bins. It is burped on a schedule over a month inside of these bins. From there we either machine or hand trim each and every flower depending on where its going.
The best flowers are pre selected for our pre packaged Top Shelf Hemp ™ and go into the production line. We hand trim each bud to a level at which we would consume it (we are very picky after working with so much of this product)! We then package it into a Kraft, biodegradable bag with a Boveda 2 way humidifier to improve shelf life and the consumer experience.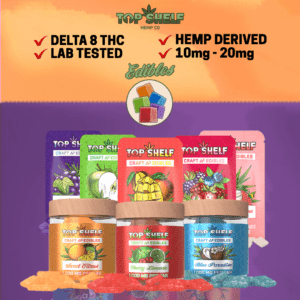 Try Top Shelf Delta 8 THC Gummies Now!
CERTIFICATE OF ANALYSIS: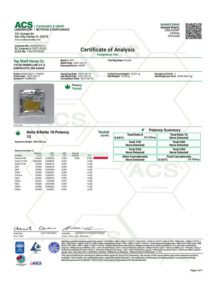 Related Products: