Calm Zen Rhodiola Capsules
Are stress, anxiety, and depression becoming unwelcome companions in your daily life? In a world that constantly demands more from us, finding effective, natural remedies for these challenges is of paramount importance.
Enter Calm Zen Rhodiola – a potent, all-natural supplement designed to help you regain your inner peace and emotional well-being.
Let's explore the fascinating world of Rhodiola rosea, uncover its multitude of benefits for stress, anxiety, and depression, weigh the pros and cons of Calm Zen Rhodiola, and answer frequently asked questions to guide you towards a calmer, more balanced life.
Product Description:
Rhodiola Rosea Extract
500mg Capsules
60ct Bottle
3% Rosavins
1% Salidroside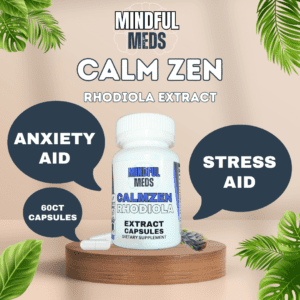 Understanding Rhodiola: Nature's Stress-Busting Secret
Rhodiola rosea, often referred to as the "golden root" or "Arctic root," is a remarkable herb that has been used for centuries in traditional medicine to combat stress and enhance overall well-being.
This resilient plant thrives in harsh, high-altitude environments in regions such as Siberia and Scandinavia, where it has developed potent adaptogenic properties to survive and thrive.
Benefits of Rhodiola for Stress, Anxiety, and Depression:
1. Stress Reduction: Rhodiola is renowned for its ability to combat the physical and psychological effects of stress. It works by regulating cortisol, the body's primary stress hormone, helping you feel more resilient in the face of life's challenges.
2. Anxiety Relief: Many individuals suffer from anxiety, and Rhodiola has shown promise in reducing symptoms of generalized anxiety disorder. It can promote a sense of calm and relaxation without the sedative effects associated with some anti-anxiety medications.
3. Mood Enhancement: Rhodiola has been found to have a positive impact on mood by increasing the availability of serotonin, a neurotransmitter responsible for feelings of happiness and well-being. This can be particularly beneficial for individuals dealing with depression.
4. Energy and Focus: Unlike some stress-relief options that may lead to fatigue, Rhodiola has the unique ability to enhance energy and mental clarity. It can help you stay focused and alert even during challenging times.
5. Improved Sleep: Rhodiola may assist in regulating sleep patterns, making it easier to fall asleep and achieve restorative, quality sleep, which is essential for managing stress and anxiety.
6. Physical Endurance: In addition to its mental health benefits, Rhodiola has been used by athletes and adventurers for its potential to increase physical endurance and reduce fatigue.
Calm Zen Rhodiola: Unlocking the Power of Nature for Emotional Well-Being
Calm Zen Rhodiola is your gateway to the full spectrum of Rhodiola's benefits. We've harnessed the natural power of this extraordinary herb to create a supplement that can help you navigate the challenges of modern life with poise and serenity.
Pros of Calm Zen Rhodiola:
1. All-Natural: Calm Zen Rhodiola is made from 100% natural Rhodiola rosea extract, ensuring that you receive the full spectrum of its benefits without any harmful additives or synthetic compounds.
2. Stress Resilience: With consistent use, Calm Zen Rhodiola can help you build resilience to stress, allowing you to face life's challenges with a clearer mind and a calmer heart.
3. Enhanced Mood: By supporting serotonin levels, our Rhodiola supplement can contribute to a brighter, more positive outlook, reducing the weight of anxiety and depression.
4. Increased Energy: Calm Zen Rhodiola promotes natural energy without the jitters or crashes associated with caffeine or stimulants. Experience sustained vitality throughout your day.
5. Improved Sleep: Achieving better sleep is a key component of emotional well-being, and Calm Zen Rhodiola can help you enjoy more restful nights.
6. Non-Habit Forming: Unlike some pharmaceutical options for anxiety and depression, Calm Zen Rhodiola is non-habit forming and does not carry the risk of dependence.
Cons of Calm Zen Rhodiola:
1. Individual Variability: As with any natural supplement, individual responses to Calm Zen Rhodiola may vary. While many users experience positive results, some may not achieve the same level of benefits.
2. Time to Effect: It's important to note that the effects of Rhodiola may take some time to become noticeable. Consistent use is key to experiencing its full benefits.
3. Interaction with Medications: If you are currently taking medications, consult with a healthcare professional before adding any new supplements to your regimen, including Calm Zen Rhodiola.
Conclusion:
Embrace a Calmer, More Balanced Life with Calm Zen Rhodiola
In a world that often feels overwhelming, finding natural solutions to stress, anxiety, and depression is essential. Calm Zen Rhodiola offers you the opportunity to harness the ancient wisdom of Rhodiola rosea to regain control over your emotional well-being.
With its all-natural composition, non-habit-forming nature, and an array of potential benefits, Calm Zen Rhodiola is your partner on the journey to a calmer, more balanced life. Say goodbye to stress and anxiety and embrace a brighter, more serene future with Calm Zen Rhodiola.
Related Products:

How long does it take to experience the benefits of Calm Zen Rhodiola?
Individual responses may vary, but many users report experiencing noticeable improvements in mood and stress levels within a few weeks of consistent use.
Is Calm Zen Rhodiola safe to use with other medications?
If you are taking medications, especially antidepressants or anti-anxiety drugs, it is essential to consult with a healthcare professional before adding any new supplements to your routine.
Can I take Calm Zen Rhodiola every day?
Yes, Calm Zen Rhodiola is safe for daily use. In fact, its benefits are most pronounced when used consistently over time.
Are there any side effects associated with Calm Zen Rhodiola?
Rhodiola is generally well-tolerated, with few reported side effects. However, some individuals may experience mild symptoms such as dizziness or stomach upset. If you encounter any adverse effects, discontinue use and consult a healthcare professional.