Zion Gold Kratom Extract
Zion Herbals Gold Reserve 45% Extract Capsules or Tablets  Blister Packs are made using our 45% Mitragynine Extract powder.
Good quality leaf powder contains approximately 1.25% Mitragynine. Our 45% Mitragynine is 36 times more potent than leaf powder. Being a "Full Spectrum extract" means that it also still contains all of the other alkaloids and lipids that are found in the Kratom leaf.
An enriched extract, the 45% gets to a point where we will start to lose some of the other alkaloids as the percentage of Mitragynine goes up beyond 45%.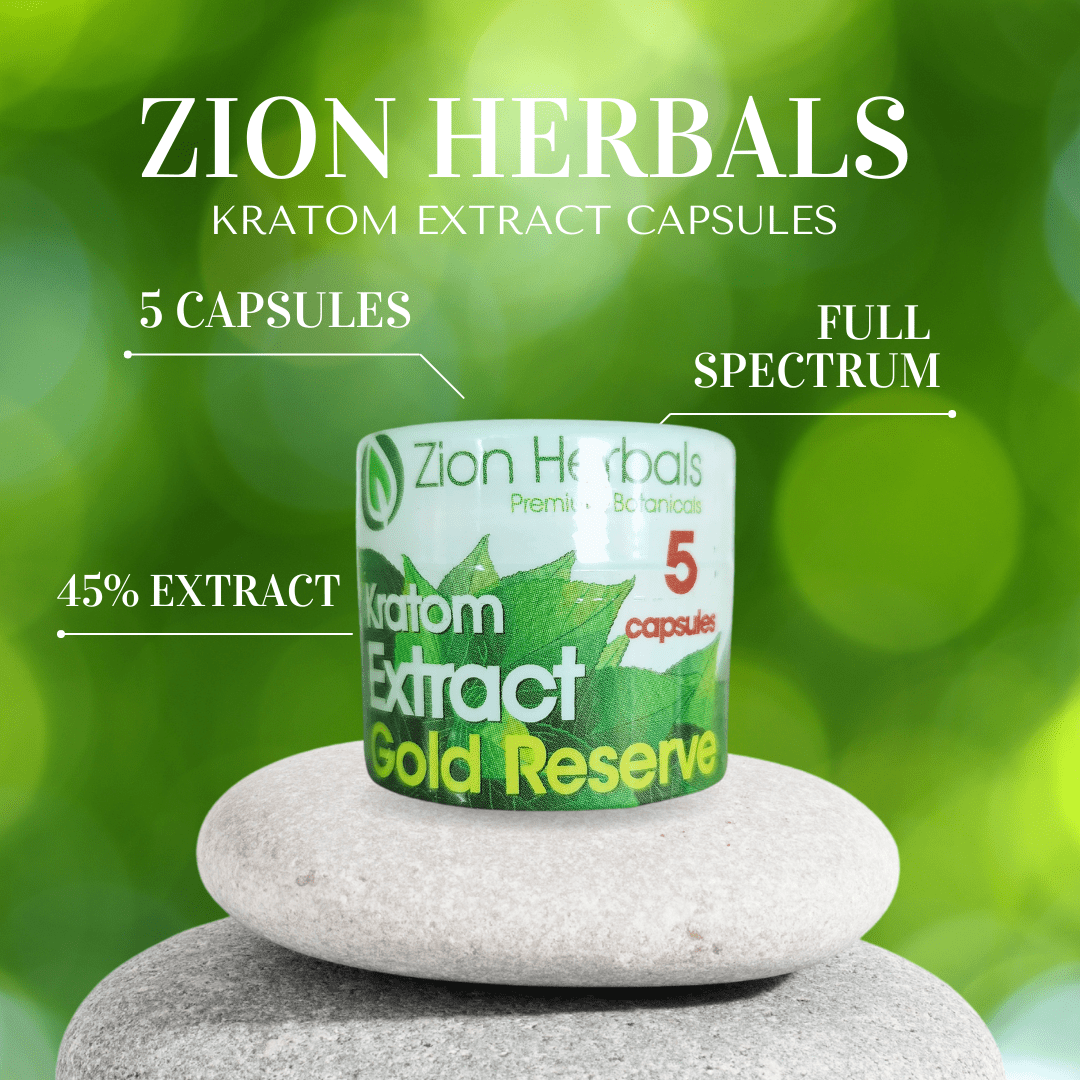 This is our benchmark extract. Zion Gold Kratom Extract is the complete full spectrum alkaloid fraction of the plant with all of the other major alkaloids occurring in similar levels and proportions as they are found in the plant. With further enrichment of Mitragynine a loss of the other alkaloids starts to happen.
This is an extremely well balanced and potent kratom extract with an increasingly easier taste. For a typical dose of 2 teaspoons or 4.5gm of leaf powder you would only need 110mg of this extract to achieve exactly the same effects.
This is a 45% Mitragynine extract and not a 45X Extract. We do not recommend using that terminology as the strength of an extract should be measured by the % amount of Mitragynine present in the product, which in this case is 45%. Good quality plain leaf powder contains about 1.25% Mitragynine.
Composition:
45% Mitragynine.
55% Other alkaloids and natural aliphatic plant compounds.
Other alkaloids include but not limited to:
Paynantheine & Isopaynantheine
Speciociliatine & Speciogynine
7-Hydroxymitragynine
Mitraphylline
Corynoxine A & Corynoxine B
None of our products are enhanced with 7-Hydroxymitragynine.
All 7-Hydroxymitragynine levels in our extracts are similar and proportional to the amount of 7-Hydroxymitragynine that occur naturally in the plant.
Every batch of Zion Gold Kratom extract that we produce comes with a Certificate of Analysis to show that we comply completely with the recommended USP467 Guidelines for residual solvents and also a HPLC report showing the amount of Mitragynine present.
Ingredients:
Mitragyna Speciosa Extract – 45% Mitragynine
1.5% 7-Hydroxymitragynine by volume
Zion Herbals is Strictly the Best.
Related Articles:
Related Products:

Is Kratom Extract A Good Choice For New Users?
No, extracts are typically best for experienced users. If your new you should consider learning more about kratom leaf.
Can I Use Kratom While On Other Medication?
No, It's best to speak with your doctor first before starting kratom.