CBD For Pets Calming Oral Drops
Introducing Koi CBD For Pets Spray: The Ultimate Wellness Solution for Your Furry Friend
Are you looking to provide your beloved pet with the care and comfort they deserve? Look no further! Koi CBD Pet Spray is your go-to solution for promoting the overall well-being of your furry companion. With its active and natural formula, this product is tailored to meet the unique needs of your pet. Read on to discover why Koi CBD Pet Spray is a game-changer for pet owners everywhere.
Product Description:
Full Spectrum Formula
Easy To Use
Instructions Included Based On Pets Weight
500mg Of Pure CBD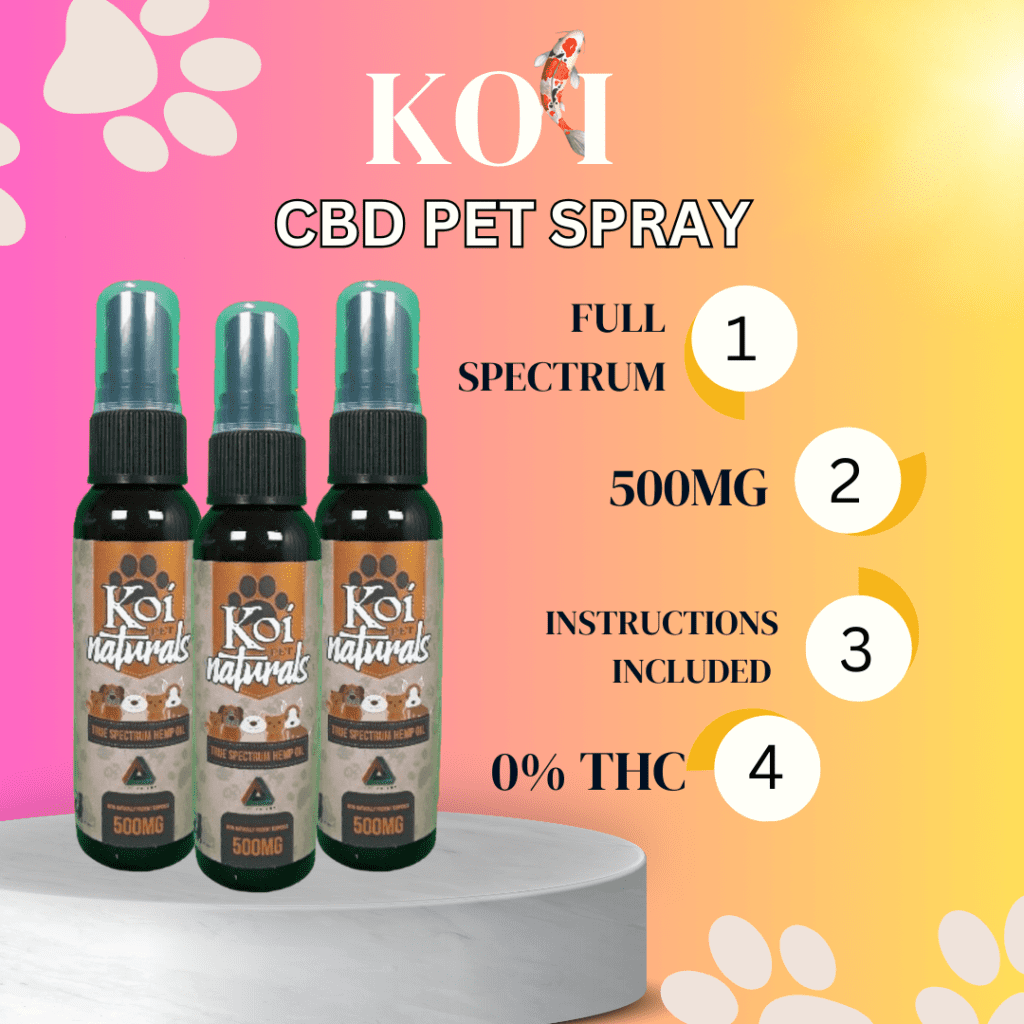 Pros:
Holistic Wellness: Koi CBD Pet Spray offers a holistic approach to pet wellness, supporting their physical and emotional health.
Natural Ingredients: Crafted with care, our formula contains 100% natural, high-quality CBD extract, ensuring your pet receives the best.
Quick and Convenient: Application is a breeze with our spray bottle, allowing for easy and precise dosing, making it perfect for pets of all sizes.
Veterinarian Recommended: Trusted by professionals, our product is frequently recommended by veterinarians for its effectiveness and safety.
Calming Effects: Reduce anxiety and stress in your pet with Koi CBD's calming properties, promoting relaxation and a sense of calm.
Cons:
Individual Variation: Like any product, the effects may vary from one pet to another due to individual differences.
Cost Consideration: While the benefits are significant, the cost may be a concern for some pet owners on a tight budget.
Adjustment Period: It might take a little time for your pet to adapt to the new routine, so patience is key.
Elevate your pet's quality of life and provide them with the love and care they deserve. Choose Koi CBD Pet Spray, and experience the positive changes in your furry friend's health and happiness. Try it today, and let your pet thrive!
Related Products:

What is CBD, and is it safe for my pet?
CBD, or cannabidiol, is a naturally occurring compound found in hemp. It is non-psychoactive and, when used responsibly, is considered safe for pets. Koi CBD Pet Spray is specially formulated with your pet's well-being in mind, ensuring it is both safe and effective.
How do I administer Koi CBD Pet Spray to my pet?
Administering Koi CBD Pet Spray is simple. Just shake the bottle well and then spray it directly into your pet's mouth or on their food. For specific dosage instructions, consult the label or your veterinarian.
What can Koi CBD Pet Spray help with?
Koi CBD Pet Spray can assist with a variety of issues, including anxiety, pain, and inflammation. Many pet owners have reported positive changes in their pets' behavior, mobility, and overall quality of life.
How long before I see results in my pet?
The time it takes to see results can vary based on your pet's unique needs and condition. Some pets experience benefits within hours, while for others, it may take a few days or even a week. Consistent use is key to maximize the product's effectiveness.
Is Koi CBD Pet Spray legal and tested for quality and safety?
Yes, Koi CBD Pet Spray is legal in all 50 states and rigorously tested to ensure the highest quality and safety standards. You can trust that our product is both effective and compliant with the law.